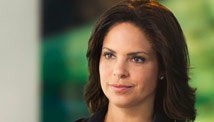 Editors Note: This piece has been done in collaboration with Latina magazine . A shorter version appears in the December-January edition of that publication.
By Soledad O'Brien, CNN
The long and bumpy journey to my first paying job in TV is the sort of memory that – when I recall it now – causes me to smile, roll my eyes and shake my head.
I was 20 years old, a junior at Harvard who just dumped pre-med, determined to make it in television news following a local TV internship. The only problem was that I had no idea how to snag the job of my dreams, and my mother, my source for most important information, had no clue either. But as an immigrant who left desperate poverty in Cuba to make her way in this country, she was incredibly tenacious. A lack of contacts or know-how didn't stop her from cornering a woman with a WNET tote bag on the Long Island Railroad. The ride from Manhattan to Smithtown, New York, where I grew up, is about 90 minutes: plenty of time for a proud Cuban mother to make a pitch for her ambitious daughter and secure a phone number for the woman with the tote, who did indeed work at WNET, the PBS station in New York City.
Mom called the lady a few days later, and asked her to hire me.