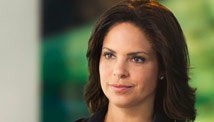 Editors Note: This piece has been done in collaboration with Latina magazine . A shorter version appears in the December-January edition of that publication.
By Soledad O'Brien, CNN
The long and bumpy journey to my first paying job in TV is the sort of memory that – when I recall it now – causes me to smile, roll my eyes and shake my head.
I was 20 years old, a junior at Harvard who just dumped pre-med, determined to make it in television news following a local TV internship. The only problem was that I had no idea how to snag the job of my dreams, and my mother, my source for most important information, had no clue either. But as an immigrant who left desperate poverty in Cuba to make her way in this country, she was incredibly tenacious. A lack of contacts or know-how didn't stop her from cornering a woman with a WNET tote bag on the Long Island Railroad. The ride from Manhattan to Smithtown, New York, where I grew up, is about 90 minutes: plenty of time for a proud Cuban mother to make a pitch for her ambitious daughter and secure a phone number for the woman with the tote, who did indeed work at WNET, the PBS station in New York City.
Mom called the lady a few days later, and asked her to hire me.
I learned all of this only because when I came home during college break, my mother told me proudly that she had secured an interview for me. I was mortified. I didn't know how to get a job in television, but I did know having your mother inquire on your behalf was something you did when you were trying to get into a dance class at age eight.
So I was mortified, but slightly thrilled, too, because I had no idea how to get a "real job" either and an actual interview was a step in the right direction, no matter how I got it.
I have been thinking a lot lately about what is needed to wage a successful job hunt, mostly because you cannot pass a day doing what I do and not hear about depressing job numbers: 13.9 million of us are unemployed, 9% of the U.S. population.
Unemployment is devastating our minority communities. Seven of every 100 whites are unemployed. For African-Americans that number is more than double – more than 14 of every 100. It's 11 per 100 for Latinos. That lack of work has contributed to a startling drop of wealth in minority communities. A study released by the Pew Research Center this summer concluded that from 2005 to 2009 wealth – which is defined as all that you own minus all that you owe – dropped 66% among Latino households and 53% among black households. White wealth, the study said, dropped 16% in the same period.
Rather than wallow in these dismal numbers, we need to be proactive. It may take a while for the economy to recover and the jobs to come back, but as Latinos, we need to put ourselves in the best possible position to snag those opportunities when they do arise.
Reina Valenzuela was 45 years old when she lost her job in 2008.
"I was working as legal support manager for a law firm, heading a team of paralegals and working with the HR groups," she says. The experience taught her that she liked managing people, so while she was working she began to take a course or two each semester with the goal of eventually getting an MBA. When Valenzuela was laid off, she returned to school fulltime, graduating with an MBA in global management in 2009.
Valenzuela, an immigrant from El Salvador, believes in the power of education. Following a divorce in her 30s, she returned to school for the first time to get an undergraduate degree and improve her earning power. More of us Latinos need to think this way.
Everyone - no matter their race - talks about the importance of education when it comes to securing "that" job, but for Latinos, it's especially important. Here's why: A 2009 study out of Princeton University looked at a group of racially diverse young men with similar looks, heights and educations applying for entry level jobs in New York City. The study determined that racial discrimination against African-Americans was more pronounced than it was against Latinos.
Part of what sociologist Algernon Austin takes away from the study is that racism affects African-Americans applying for jobs more heavily than it affects Latinos. He says increasing high school and college graduation rates among Latinos would greatly diminish the current three-percentage-point-gap between white unemployment and Latino unemployment.
"Among [whites, Latinos and African-Americans], Latinos have the lowest level of college completion and the highest in high school dropouts," says Austin, the director of the Program on Race, Ethnicity and the Economy at the Economic Policy Institute.
"More educated workers tend to have lower unemployment rates," Austin says. The October unemployment rate numbers bear that out: 12.7% for high school dropouts, 4.2% for college graduates.
As we've been hearing throughout this year, when it comes to population numbers, Latinos are winning – big. We are on target to be nearly 30% of the U.S. population by 2050, according to the Pew Hispanic Center. But population isn't power. Education is the magic formula that leverages numbers into impact. Four in 10 Latino adults in the U.S. have never completed high school, according to Pew Hispanic Center statistics from 2009. A little more than one in 10 of us have a college degree, which means we're unqualified for, and massively under represented, in fields that translate to money, power and middle class living in the U.S.: legal professions, healthcare, education and on and on.
However, early indications are we may be heeding this message of education. A recent study from the Pew Hispanic Center says in 2010 approximately 1.8 million Latino students aged 18 to 24 were enrolled in college. That's an increase of 24% from 2009.
Of course, education alone will not get you employed. You need to get out from behind your resume and start networking.
Valenzuela sets aside one day every single week to network. On that day, she attends a conference or a professional meeting, and follows up on newly collected business cards or contacts she has made online. "LinkedIn is my favorite for professional networking," she says, but she also uses Facebook and Twitter.
"Very often Latinos stick to their circle of friends, acquaintances and family," says Mariela Dabbah, a Latina author, speaker and CEO of LatinosinCollege.com. "They don't take full advantage of professional networking. Encouraging Latinas to network year round, where they can meet people is very important. I think a lot of them don't know where to find these opportunities."
Dabbah stresses the importance of joining professional organizations and attending conferences. She also encourages people to use social networking sites as tools to create off-line meetings or informal, informational interviews. And she suggests doing volunteer work to expand the list of who you know.
"Jobs are gotten through people who know people. You think you can sit behind a computer and send resumes. You don't get really get jobs that way," Dabbah says.
My current job at CNN came from a conversation I had with an executive I bumped into at a minority journalist convention. He said to me, sort of casually, "Might you be interested in something like this?" And I was.
Valenzuela is not looking for a job anymore. These days, she's looking for clients.
A graduate school internship in Washington, D.C., taught her the ins and outs of completing government certifications and connecting with diversity suppliers at major corporations. She decided to use her knowledge to start her own management consulting business called Starfish Global. Valenzuela now specializes in helping Latino-owned entrepreneurs take their businesses to the next level, "by organizing, restructuring and setting up systems that will help them manage their company and their employees."
"I strongly believe the entrepreneurial spirit in general is what's going to get us out of this financial mess we're in," Valenzuela says confidently. "It's the small businesses and new businesses that will bring back jobs and the growth we need to get out of this recession." She is especially passionate about immigrant business owners because, "we have that courage. We come from places that have experienced tough times.... We know if you work hard and give it an honest effort you can succeed."
She has had challenges. "It's going to take me years to recover my investment. It hasn't been easy. I don't want to give the impression that it's all fine and dandy," but Valenzuela gets up every morning confident that she's now doing exactly what she's supposed to be doing.
I am also doing exactly what I'm supposed to be doing. That's due, in part, to the career track I embarked on with my very first job in TV. I got it – not from the lady on the train with the tote – but from the television station where I did my internship. When I learned they had a position open, I applied and asked for recommendations from people I met while working there. In other words – my newly minted contacts helped.