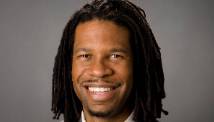 Editor's note: LZ Granderson, who writes a weekly column for CNN.com, was named journalist of the year by the National Lesbian and Gay Journalists Association and is a 2011 Online Journalism Award finalist for commentary. He is a senior writer and columnist for ESPN the Magazine and ESPN.com and the 2009 winner of the Gay and Lesbian Alliance Against Defamation award for online journalism. Follow him on Twitter at @locs_n_laughs
By LZ Granderson, CNN Contributor
I was told the substance in the glass casserole dish in front of me was potato salad – but I wasn't buying it.
Why was it white?
Why was it smooth?
And where was the red stuff that goes on top?
It was 1998, and I was having my first Thanksgiving dinner with white people.
Now on the one hand going to his parents house for the holiday was a very good thing. I was in an interracial relationship and we had progressed to the point in which he felt comfortable doing so. But on other hand, I was a bit troubled when I walked through the door and didn't smell greens cooking. Were we too early? Were they in the fridge?
As I was being introduced, I took a nice deep breath and...nope. Not a whiff of collards, or turnips or even the Tito Jackson of greens—mustard. For a moment I thought I had wandered into an episode of the Twilight Zone or maybe my mother had hired a witch doctor to put a hex on me because she was mad I wasn't coming home.
I mean, it was Thanksgiving.