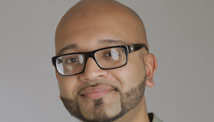 Editor's note: Aman Ali is a New York-based writer, stand-up comedian and the co-creator of 30 Mosques in 30 Days, a Ramadan road trip across America.
By Aman Ali, Special to CNN
Anytime I hear about a TV show coming out that features Muslims, my initial reaction is almost always "Oh man, please don't suck. Please don't suck."
Unfortunately with TLC's new reality show, it does.
"All-American Muslim" is the network's new series about a group of Muslim families living in the Arab-rich city of Dearborn, Michigan.
Brilliant! What better way to show the mainstream public an insight into how multicultural and intellectually diverse Islam's followers are… with a show focusing on just Arabs (20% of the world's Muslim population) who follow the Shia sect of Islam (about 10 percent of the world's Muslim population).
The show, which premiered over the weekend, presents itself as a glimpse into the American Muslim community but ignores an overwhelming majority of the cultures that comprise it. South Asians like my parents, who came from India, make up one of the largest group of Muslim immigrants in the United States.
That doesn't bother me as much as the fact that the show makes no reference to African-American Muslims, another huge American Muslim group. Many of the black slaves that built the foundation of this country with blood, sweat and tears were Muslim.