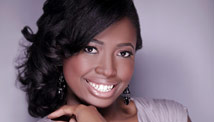 Editor's Note: Erica Williams is a senior strategist at Citizen Engagement Lab, an incubator for projects that use digital media, technology and culture to engage communities in people-powered campaigns. Previously, she  was co-founder of Progress 2050, a project of the Center for American Progress, that develops new ideas for an increasingly diverse America.
By Erica Williams, Special to CNN
I am a millennial who has been working to engage people in civic life and politics for six years.
As part of that work, I have been particularly focused on ensuring that young people are not only active participants and leaders in changing their communities, but that their participation is recognized, respected and impactful.
The year 2008 was dubbed "the year of the youth vote" by mainstream media, and it felt like the first time that this generation's engagement was heralded by the establishment. Youth participation flew in the face of the dominant narrative of a disengaged, apathetic generation. That engagement contributed to a clear political outcome: the election of President Obama.
Now, as the Obama campaign prepares for the 2012 election, the state of young America is radically different than it was in 2008. Millennials, more than anyone, latched on to the idea that the country could be better, and while we remain optimistic, hope and change seem far away.
The energy of most young people who I know looks far less like the Obama campaign, and more like Occupy Wall Street and the 99% movement.
Now, there is a greater specificity about their discontent. Their desire for change is not about voting or hope: It's about exposing the system that has let them down and created the circumstances for their frightening future.
The biggest concern is not just having a job right now, but their economic future. A recession created by a decade of poor, ill-conceived economic decisions not only resulted in record rates of unemployment and debt, but a system that is broken and ill-equipped to fix itself. A Pew Research Center report released this month said that households headed by people age 65 and older are 47 times wealthier than those headed by people 35 and younger. It's the largest wealth gap ever recorded between the two groups.
The factors that were foundations to our parents' "American Dream" are notably absent today. There are fewer strong union jobs to usher workers into a middle class, single-income livelihood, and too few strong public schools to give average Americans a word-class education.
The harshest criticism of the Occupy Wall Street movement is that it is unfocused.
How do you measure success for Occupy Wall Street movement?
But the reality is that its focus on economic inequality is specific in a way that the hope and change of 2008 never was.
My colleagues and I have been using our time and resources – both officially and independently – to support the Occupiers and the 99% movement in any way that we can.
We have talked to organizers, joined with them to build shared tools and technology, and, in the process, have learned a great deal about their purpose.
In my experience with Occupiers, one thing rings true from Oakland to New York to Washington: The youth who are participating are doing so to expose and diagnose problems. They are rebelling against a dysfunctional economy that does not work for them and the political system that limits their agency in solving that problem.  If that is not focus, I don't know what is.
Do they have answers and desired outcomes yet? No. That is intentional.
For the time being, they are content to diagnose a problem and make the world take note.
Their voices and occupation have created the space in national dialogue to finally have a conversation about the economic inequality and oppression that young people – and many others – have been feeling for years.
The Occupy movement is messy. It is unscripted and is not engaging in the existing system in the expected way.
Occupy Wall Street: Add to our open story
In that sense, it is, in fact, characteristically millennial.
Young people are struggling financially and they are frustrated, confused about the best way to seek change within a system that seems so fundamentally broken.
Instead of viewing them as disengaged or without focus because of their lack of political demands, it might better suit America to listen to what the Occupiers and young people in communities all across the country are saying.
Regardless of the candidate or the leader or the corporation, millennials are not super-excited to blindly engage in the political and economic systems that run this country.
They want to create new ones that actually work.
The opinions expressed in this commentary are solely those of Erica Williams.