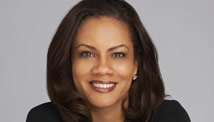 Editor's note: Goldie Taylor is an Atlanta-based cable news contributor, author and columnist. She is managing editor of The Goldie Taylor Project and CEO of the advertising agency Goldie Taylor OmniMedia.
By Goldie Taylor, Special to CNN
1984.
It was supposed to be the best year of my life. I was at the top of my class and got my first car, a 1974 Ford Mustang.
But it was also the year that I was repeatedly molested by a school football coach. Twenty-six years later, just when I thought I had neatly folded and tucked it away for good, I am still battling shame and guilt.
A few days ago, I found a copy of the grand jury report detailing allegations of child rape against a former Penn State University football coach on the Internet. The first few paragraphs left me speechless. I tried again and again to read it. But I couldn't get past the first several pages. I laid the document on my coffee table and went for a walk. It was after midnight and the streets were empty. Alone with myself under the soft glow of streetlights, I began to weep.
Why didn't anybody stop him? How, I asked, did he get away with it for so long? Why didn't the children, some of them now grown men, speak out?
I was waiting for answers I already had.
Sexual abuse, whether the perpetrator is a relative or another adult, all too often goes unreported. In fact, according to National Violence Against Women Prevention Research Center, rape is the most underreported crime in America.
I never told anyone.
Over a period of months, I was molested on and off school grounds, given drugs and alcohol to numb the pain.
First came confusion and fear, then shame and guilt. Decades later, I am still dealing with the vestiges of that guilt. Not for what he did to me, but not having the courage - the force of character - to stop him even when I knew there were others.
When it started, I was an A-student with designs on attending an Ivy League university. By the time it was over, I had dropped out of school altogether. Maybe I asked for it, I told myself. No one seemed to notice that I was slipping away. I never told my mother, never went to school administrators or counselors, never told my pastor, never called police.
I just let it go. I tried to convince myself that if I tried hard enough, it would all go away. Nobody needed to know.
Years ago, I re-enrolled in high school and enlisted in the Marine Corps. In the time since, I've been a working journalist, political consultant and an executive with Fortune 500 companies and global public relations agencies. But for all of that, I'm still re-building. I'm still trying to find my way home.
Until a few days ago, it was a private piece of pain I kept tucked away. Afraid of being shunned, of losing the career I worked 25 years to build, afraid of what my now grown children would think about me.
Then I read the rest of the grand jury report. What was immediately clear is that, if true, there was a culture of enablers surrounding Jerry Sandusky. There were too many people who suspected, knew of or outright witnessed his sexual depravity. While there are eight victims in the report, chances are - according to criminal behaviorists - there are many, many more.
I learned during a Sunday afternoon Twitter chat that Sandusky planned to fight the charges, which meant calling his victims to the witness stand. My chest tightened, my jaw clenched. A wave of anger, unlike any I had ever felt, swept over me.
While clearly Sandusky deserves legal counsel and should have his day in court, the very notion that his alleged victims would have to publicly re-live their torment tore at me. At that very moment, I wanted them to know that they weren't alone.
Somebody, I said, oughtta say something.
And so I began to write.
"At first I was angry that #PSU officials covered it up," I typed. "Now, I'm ashamed that I never had the courage to tell my own story."
Later, I tweeted: "Breaking my silence."
By the time a CNN producer called that afternoon, my decision had already been made. I needed a "safe harbor," I told her. Telling my story, even to my friend and colleague Don Lemon, was a deeply emotional thing. Afterward, in the corner of the studio, I broke down and sobbed.
There was no turning back. I knew that, once and for all, I would have to deal with a trauma I thought I'd long since buried.
The truth is it was never buried. I've been cloaked in coat of shame every day of my adult life. On my way to the studio, I received the unfortunate news that my abuser is still teaching and coaching - high school. Girl's track. I read the glowing report of his accomplishments on the Internet.
Although there is no statute of limitations for rape in Missouri, I do not plan to press charges or seek any other legal recourse, civil or criminal. My motive is giving others an opportunity to speak out, and to let him feel the shame I've felt all of these years. In the coming days, I plan to contact school officials in Missouri. I will share my story with them directly.
And then, I am going to move on. And make this year the best year of my life.
The opinions expressed on this commentary are solely those of Goldie Taylor. The school district where the assistant coach was most recently employed completed its investigation. To date, no other accusations have been made. The original school district where the alleged incident occurred released a statement reassuring students and parents it has strict policies against inappropriate conduct.