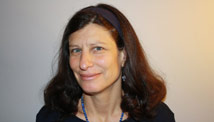 Editor's note: Susan Bodnar is a clinical psychologist who works with people from diverse backgrounds and teaches at Columbia University's Teachers College. She lives in Manhattan with her husband, two children and all of their pets.
See how readers reacted to Bodnar's piece.
By Susan Bodnar, Special to CNN
(CNN) - When the director of diversity at my son's new elite Manhattan private school recently asked a few parents in a diversity committee meeting to comment about the personal impact of stereotypes, I paused. As a white American with white children, I could have expressed my deep empathy for the racism experienced by people of color. Instead I knew I had to come out from behind the color of my skin and share how stereotypes affected me. White people, after all, are confronted by bias too.
"I sometimes feel insecure, " I said, "being around so many wealthy people and I'm having trouble with my extended family who think I'm being uppity by sending the kids to a private school."
I had just returned from my grandmother's funeral in McAdoo, the small eastern Pennsylvania town that grew from a coal-mining patch community. For decades, coal was a thriving economic engine that had supported my immigrant family. When the coal ran dry sometime after World War II, the progress train left town, leaving behind slag heaps and blackened cavities in the earth. Some family members continued to work as wildcat miners. Others branched out into trucking, steel mills and manufacturing jobs. One grandfather became a chicken and potato farmer. A great-uncle opened a local grocery, Bodnar's market. Despite the economic devastation brought on by the end of the region's mining era, my family was trying to grow.
My father even won an ROTC scholarship and served with his young family on Clark Air Base in the Philippine Islands, which served as the logistical hub for the Vietnam War and the place where F-4 fighter planes took off for secret bombing missions. That war ushered in newer mores that seemed to break everything apart. My parents divorced. My single, working mom moved away and raised my sister and me in a little apartment in a small Connecticut town. My father relocated to Texas. My grandfather's farm couldn't keep up with the competition from industrial agriculture. Local unemployment numbers grew and insidious mining-related illnesses plagued my family – black lung, emphysema, kidney disease, brain tumors and other cancers, as well as psychological problems stemming from depression and alcoholism. Everybody chain-smoked.
Yet, this area of Pennsylvania and its people – my family – remained the place to which I always returned home. I still played with my cousins while the adults shared meals on picnic tables set up outside until long after dusk. We picked blueberries and mushrooms, hiked through the woods to watch the deer, helped my grandfather heave coal into the furnace and learned to use my grandmother's black sewing machine, decorated with gold.
Soon enough, I was accepted on a scholarship to Wesleyan University, one of the first universities to seriously strive for economic diversity in education. Of course, everything changed for me. I met people who had lived in different countries; studied philosophy, intellectual history, languages and improvisational dance; I discovered that I too could have dreams, even preposterous ones. Hard work and possibility defined my emergent self, rather than obstacles and limitations.
McAdoo began to look smaller and more frightening, especially since it seemed to have stopped moving forward in time. The houses, cars and the people became grayer and run down, as though from the set from an old movie. My parents' homes started to feel complicated and hard. At 18, my mother had a newborn. At the same age, I was a sophomore at one of the best universities in the country. After a certain point, I realized that my parents couldn't possibly understand who I had become and needed their scant resources to support their own growth. I had no choice but to continue the journey my parents started and take the dreams of immigrant miners further along the path to success. I have remained steadfast in this quest despite the embarrassment of many, many social mistakes - gesticulating so hard I knocked someone's plate out of their hands, dressing in a long plaid skirt, thick sweater and wide, flat shoes for date night, and once mistaking the Hamptons for a rock band. My friends assumed eccentricity caused my worries. The reality was the possibility that I wouldn't be able to pay tuition, despite working two jobs.
For these reasons, I often felt inferior and not as good as others because I came from a different class. This bothered me. Aren't most of us on different points of a trajectory toward increased freedoms? Don't many people still struggle with the challenge of being members of a much more entitled – and confident – society than the one into which we may have been born? Why did some people seem to act as if they were better than me?
I didn't think it was all in my head. Some people managed class differences by eschewing anyone who reminds them of their own diverse pasts. White people can easily pull off that conceit. My grandmother, however, always reminded, "Don't forget where you come from." I have therefore struggled to live in both worlds, my McAdoo and my New York City – an urban dweller with small town values. Society depends as much on the traditions and values of working class culture as it does on the innovations inherent in upward mobility. Those often-disparate places reverberate inside most of us like two rhythms beating as one heart.
I eventually earned my doctorate in clinical psychology and now assist other people trying to manage their multiple cultural identities, a psychological reality that has become increasingly common in a more global and integrated society. This is especially true of my practice because I have a sliding scale fee structure. My relatives have welcomed me as "the first doctor" in the family. And now that my grandmother has died, this "doctor" wants to remain connected to my "first family."
I am going to start sewing again, using my grandmother's hand-stitched guide to turn old patterns into clothing for our modern New York children. I will also openly join the school diversity committee, out of respect for the multiculturalism of everybody's family story, including my own.
The opinions expressed on this commentary are solely those of Susan Bodnar.