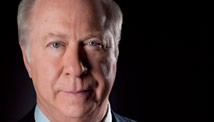 Editor's note: David Gergen is a senior political analyst for CNN and has been an adviser to four presidents. He is a professor of public service and director of the Center for Public Leadership at Harvard University's Kennedy School of Government. Follow him on Twitter: @David_Gergen. Michael Zuckerman is David Gergen's research assistant.
By David Gergen, CNN Senior Political Analyst, and Michael Zuckerman, Special to CNN

(CNN) – One doesn't have to be Hispanic to recognize the importance of the Latino population to America's future. With the Hispanic population in America up 43% during the past decade and projected to comprise nearly one-third of the U.S. population by 2050, our nation's future is increasingly bound up with the fate of Hispanics. If Hispanics go up, we all go up; if they fall, look out below.
Unfortunately, nationwide social conditions are now looking grim. According to a recent report from Pew Hispanic Center, there are now more Latino children living in poverty – 6.1 million – than any other racial or ethnic group. The recession-impacted number is up a whopping 36% from 2007. (Poverty for white and black children was up 17.6% and 11.7%, respectively).
The education gap between whites and Hispanics at grades eight and 12 has persisted at roughly the same level since 1994, while the Hispanic dropout rate - 17.6% - remains nearly twice as large as that 9.3% rate of black students and more than three times the 5.2% rate of white students. Clearly, we are not doing all that we could be, and will reap the whirlwind if we continue to allow such a burgeoning part of our population to grow up impoverished and without a proper education.
How to solve this impending crisis? While there are many valuable ideas out there, one we would highlight is the nurturing of leadership capacity and civic engagement, particularly in the rising generation.
The Hispanic community, despite its rapid growth, is badly underrepresented in the leadership of our nation's government, businesses and non-profits: Hispanics hold only 26 seats in the current House of Representatives – just 6%, versus 16% of the population - and only 43 board of director seats at Fortune 100 companies - about 3.6%, out of 1,191 total. While we were cheered to learn that college enrollment among Hispanic students jumped 24% between 2009 and 2010, reaching an all-time high of 12.2 million, we recognize that a college diploma is only a first step toward building leadership capacity. More is needed to increase the representation of Latino leaders in the public, private, and social sectors.
At the Harvard Kennedy School's Center for Public Leadership, one program we've been especially proud to create in the past two years is the Latino Leadership Initiative, the first program of its kind in the United States. Working with college presidents and deans of students around the country, the leadership institute identifies around 40 promising college-age students from partner universities with significant Hispanic populations and invites them to Harvard, all expenses paid. There, they engage in an intensive, weeklong executive education experience designed to improve their leadership skills through teaching, practice and mentorship from inspiring role models.
The classroom sessions focus on a range of leadership development areas, including public speaking, decision making, community organizing, social media and negotiation. In addition, the program facilitates valuable opportunities for the participants – 65% of whom, this past year, were first-generation college attendees – to come together and build community and solidarity among themselves, while also interacting with an array of accomplished leaders from government, business and non-profits. This past year's lineup, for example, included Harvard's Marshall Ganz, Andy Zelleke and David Carrasco, as well as practitioner guests such as Pulitzer Prize-winning novelist Junot Diaz, Houston entrepreneur Farouk Shami, astronaut Jose Hernandez and Pinnacle Technical Resources chief executive Nina Vaca.
Harvard, of course, has no monopoly on wisdom. But it does have enormous convening power and the very fact that these students are on the Harvard campus sends them a message: We think you represent an important part of America's future. We believe you are ready to change the world.
As the Harvard Divinity School's David Carrasco, the first Latino to hold an endowed chair at Harvard, told the group: "You represent the new demography of the U.S. and your leadership skills have the potential to revitalize a new democracy."
One of the best features of the institute is that the learning does not end after the weeklong session lets out. Classroom skills are immediately put into practice through post-program requirements, which mobilize the students into teams that develop and execute a community service project in cooperation with their mentors and partner institutions. Dario Collado, who manages the institute, continues to convene regular conference calls for students to report out on their progress and share best practices. Last year, institute students from the University of Houston created a leadership training program for 50 eighth graders at urban grade schools nearby. They provided six hours of instruction and mentoring per week during the school year, which culminated in a day-long retreat on campus at the University of Houston.
Leadership training alone will not close the achievement gap or erase childhood poverty, but it can play an important role. As the next generation of young Latinos grows up, they have the power to shape their future and, increasingly, their country's future. As the nation's second Latino astronaut, Jose Hernandez, asked this past year's cohort, "Are you guys going to embrace the opportunity to be agents of change? Because, like it or not, you guys are models – it's a powerful tool."
The novelist Junot Diaz added: "Take heart, you are equal to the task. If you survived childhood as a Latino in America, there is nothing you cannot survive."
The student responses were heartening. "I was an observer before," one student later explained. "Now I want to be an actor."
The opinions in this commentary are solely those of David Gergen and Michael Zuckerman.