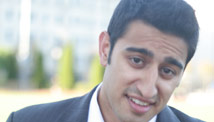 Editor's Note: Khurram Dara is the author of "The Crescent Directive: An essay on improving the image of Islam in America," coming this winter (Tensile). He tweets @KhurramDara.
By Khurram Dara, Special to CNN
For the last decade, Islam has been under a lot of scrutiny, and understandably so. When you've got terrorists all over the world declaring war on America and the West in the name of Islam, it's only natural that people will have questions.
But this reasonable concern has rapidly turned into irrational suspicion, with anti-Muslim groups seizing on the opportunity to paint all Muslims in America as radical-loving, violence-approving foreigners.
The problem is that the response from American Muslims has been about as effective as Herman Cain's PR strategy in the face of sexual harassment allegations. Instead of pooling our resources to combat radicalism, or taking a more active role in our communities so that other Americans better understand us, we've resorted to defense tactics.