Chester Nez was barely out of his teens when he joined the Marines in a role that would help the United States and its allies win World War II, a role that stayed secret for decades.
Nez was one of 29 members of the Navajo tribe that developed a military communications code based on the Navajo language. It was that same language that Nez and his friends were forbidden to speak when they were students at government-run boarding schools for Native American children.
Military authorities chose Navajo as a code language because it was almost impossible for a non-Navajo to learn and had no written form. It was the only code the Japanese never managed to crack. The code talkers themselves were forbidden from telling anyone about it - not their fellow Marines, not their families - until it was declassified in 1968.
Nez and his fellow code talkers found themselves in the very thick of the battlefield, transmitting and receiving messages about troop movements, enemy artillery locations, and calls for food, equipment or medical supplies as bullets whizzed past their ears and shrapnel sliced into the earth near their foxholes. Nez served during some of the most brutal engagements in the South Pacific, including Guadalcanal, Guam, Peleliu and Bougainville. They worked in teams of two, one relaying and receiving messages while the other cranked the portable radio and listened for errors in transmission. In the heat of battle, they might be at work for 24 nonstop hours, cramped into small holes dug in the earth.
"When bombs dropped, generally we code talkers couldn't just curl up in a shelter," Nez wrote in his book. "We were almost always needed to transmit information, to ask for supplies and ammunition, and to communicate strategies. And after each transmission, to avoid Japanese fire, we had to move."
Now 90 years old, Nez is the only one of the original 29 Code Talkers still living, and his recently published autobiography, "Code Talker," written with Judith Schiess Avila, is the first and only written in a Code Talker's own words.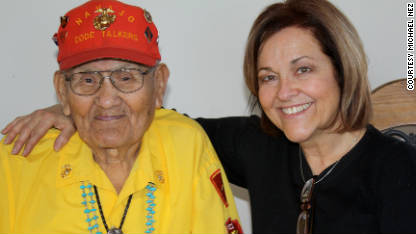 CNN: Why was it important for you to tell your own story instead of someone writing it for you?
Nez: I told my story at length to Judith Avila, and she recorded it and then wrote it down. It was important that the story come from me, since I want this memoir to accurately depict my Navajo people and the contributions made by the code talkers. Judith and I reviewed the book "Code Talker" together many times to ensure this accuracy.
CNN: What do you think is the central lesson of this book?
Nez: My wartime experiences developing a code that utilized the Navajo language taught how important our Navajo culture is to our country. For me that is the central lesson: that diverse cultures can make a country richer and stronger.
CNN: How did becoming a code talker change your life?
Nez: Our Navajo code was one of the most important military secrets of World War II. The fact that the Marines did not tell us Navajo men how to develop that code indicated their trust in us and in our abilities. The feeling that I could make it in both the white world and the Navajo world began there, and it has stayed with me all of my life. For that I am grateful.
CNN: What Navajo word best describes your life, and why?
Nez: Hozoji - that is a word with religious implications meaning kindness and good will.  It is part of the Right Way of life – something I have tried to live by. [The "Right Way" is a tenet of traditional Navajo spiritual belief that says a person must find balance between individuals, self, and one's world, and live in harmony with nature.]
CNN: Do any of your grandchildren or great-grandchildren speak Navajo?
Nez: My own children do not speak Navajo, although my daughter-in-law, Rita Nez, speaks it well. We enjoy talking Navajo to each other. My great-grandson, Emery, took a class in Navajo in summer school. I liked that.
CNN: Do you think the contributions of Native Americans get enough recognition in this country?
Nez: Yes, I think our country is doing much better at recognizing the contributions of all cultures. The recognition of the code talkers came late, but it has been good for my Navajo people. I hope that this type of recognition continues across cultures.
CNN: Is there anything you'd like readers to know that I haven't asked about?
Nez: In developing our code, we were careful to use everyday Navajo words, so that we could memorize and retain the words easily. I think that made our job easier, and I think it helped us to be successful in the heat of battle. Still, I worried every day that I might make an error that cost American lives. But our code was the only code in modern warfare that was never broken. The Japanese tried, but they couldn't decipher it. Not even another Navajo could decipher it if he wasn't a code talker.