By Debra Goldschmidt, CNN In America
(CNN) - In 10th grade English at Los Angeles' Grover Cleveland High School, Danielle Taklender's students read the book "Luna" by Julie Anne Peters.  It's a story about a transgender teen.
Taklender has been teaching the book for seven years without any fanfare or push back. It's getting noticed now as her school district takes the lead in developing a plan to comply with the first state law mandating lesbian, gay, bisexual, and transgender history and social science curricula. The California law, which takes effect in January, stops short of dictating how schools are to comply and leaves that up to the districts and schools themselves to figure out.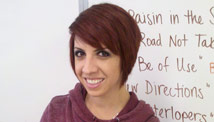 Taklender uses "Luna" to expose students to new vocabulary and different ways of thinking about pronouns. The students discuss gender identity versus sexual orientation, as well as gender roles in literature.  Taklender said she teaches this book the same way she teaches every other book.
She says the only negative feedback she has run into was a parent who once requested an alternate assignment after the class finished reading the book.
"No students ever say they changed their sexual orientation because of it," Taklender said.
The new law, called the California Fair Education Act, also requires schools teach about the contributions of Native Americans, and people with disabilities. It also bans instructional materials that adversely reflect on a person due to their sexual orientation. The requirements are actually an expansion to the education code already in existence, which requires lesson plans to include various ethnic groups.