By Nick Valencia and Leslie Tripp, CNN
Dalton, Georgia (CNN) - Pastor Ernesto Mendez looked over his congregation as sunlight poured through the windows of the Iglesia Bautista Nueva Vida church one recent Sunday afternoon. The church was celebrating its 30th anniversary, and some 300 parishioners, nearly all of them Latino, were there to hear the service in Spanish.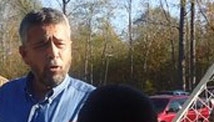 On a projection screen behind them, there was a sentence in Spanish: "God sent Rev. Ernesto to Dalton for us."
In this small southern town near the Tennessee border, it's not uncommon to see huge crowds of Latinos gathered at church, at work or in school. The Latino population grew for decades as workers came to work in the city's carpet and textile industry. As of 2010, 48% of the city's 33,000 residents were Latino, according to the U.S. Census.
But Georgia's new immigration law, known as HB 87,  has caused some concern for Dalton's Latino community. The law has been in effect about six months, though some of the strictest parts of the bill are under a court challenge. Those provisions would give officers the right to check for citizenship during a criminal investigation or to penalize someone knowingly transporting illegal immigrants during the commission of a crime. Speeding or driving without proper equipment could be considered crimes.
The law is not as strict when compared to the new immigration law passed in neighboring Alabama. Still, the law has impacted the way Latinos in Dalton live and act. Some Latino-owned businesses on the town's main boulevard have been abandoned.
"Police are racist here," one bakery owner who did not want to be identified told CNN. "Buildings around us have closed. Look," he said, pointing out the window to a group of vacant buildings across the street.
The image is a lingering reminder of the sea change Dalton went through just a few years ago.
'We needed workers'
Dalton, known as the "Carpet Capital of the World," went through an economic boom in the late 1980s. Demand for labor in the carpet mills reached an all-time high.
"Twenty years ago, when there was close to 300, 340 carpet mills. We needed workers. Everyone who wanted a job had one," said former Dalton Mayor Jim Middleton, who welcomed the first major wave of Latino immigrants while he was in office.
Middleton, who left his mayoral post years ago, says Dalton's carpet factories were aggressive about courting Latinos to the town.
"The carpet mills would go and send trucks to pick them up from Texas at the border and bring them back here," he told CNN. "It just fit. It was a situation where this community had to reach out somewhere. I understand the criticism. You want them to come over legal, but with the demand of work, there just wasn't that time to do that."
Middleton said the town didn't keep a record of how many Latinos immigrated to Dalton in those days, but he said the numbers were in the thousands and their arrival noticeably changed the social demographic of the town. It's since slowed, but today, with border arrests down to levels not seen since the 1970s, experts say illegal immigration from Mexico into the U.S. is down overall.
Middleton has a good-old-boy look and Southern twang characteristic of the region around the North Georgia mountains. But his opinions on immigration fall far from those who voted in the new changes to Georgia's immigration laws.
"If we had not been able to get people to come here from Mexico…it was so busy… the carpet industry wouldn't be where it is without them," he said. "It was a little bit scary to start with, but as you get to know the Hispanic community, they're some of the finest people in the world."
Like many other Latinos at the time, Mendez, the pastor, was recruited to Dalton, sponsored in part by non-Hispanic community leaders who saw the demographic of the town changing.
For the Latino community in Dalton, Mendez is the ambassador of American life, ushering newly arrived immigrants - most of them from Mexico– through the cultural challenges of coming to this small town. The role is exactly what he had envisioned for himself when he arrived in the north Georgia community about 20 years ago.
"I wanted to be a doctor and go into medicine, but I got a calling," he said in between bites of the chicken and rice dish passed out to the congregation for free after the service. "This community needed leadership."
'Prejudices disappear and acceptance increases'
Driving through the city, the signs for businesses on the freshly-paved main boulevards rotate between English and Spanish. Beauty salons and auto body shops sit next to Mexican bakeries and taquerias. Signs in store fronts read "Se Habla Español."
Republican mayor in South an unlikely advocate for immigrants
But Georgia's new laws are creating a new dynamic in the town, where Latinos and non-Latinos agree they've worked and lived together seamlessly for decades. Hispanics aren't considered a "novelty," said community leader Jim Baird, but rather, a part of Dalton.
"When people become familiar with each other on a one-to-one basis, a lot of the prejudices disappear and acceptance increases. That's happened in Dalton because so much time has elapsed," Baird said.
Baird, 69, is a Boston native who moved to Dalton in 1971. After encouraging more Latinos to move to the city in the 1980s, he started Centro Latino to help Latinos learn English, learn to get green cards or offer life skills instructions on cooking and financial planning. Centro Latino has since dissolved, but the retired social worker has continued his mission to help integrate Latinos into the community by teaching classes in community rooms or the backs of restaurants.
"I started doing it because I wanted to improve my Spanish language skills," he said. "The mystery of the different cultures turns out to be no mystery at all. People are people."
But prosperity and acceptance have not touched everyone in the Latino community, especially those without documentation to be in the U.S.legally.
'It's not like it used to be'
Ten years after moving to Dalton from Guerrero, Mexico, Minerva, who did not want to want to be identified by last name, said she feels safe in Dalton, but it's tough to find work without immigration papers.
"The factories are always an option for Latinos to work, but sometimes we get treated poorly by the Latinos who have risen in the ranks of the factories," she said after leaving Mendez's church. "Those who get papers and naturalize don't pay back into the community. They are the ones who treat us the worst. Not the whites. It's very difficult to find work here. It's not like it used to be."
TIME: 'The Carpet Capital of the World' showing immigrants the doormat
But local public school teacher Dalia Martinez-Santiago said many Latinos, at least those with children, will find a way to stay.
"We started this school year with more [English for speakers of other languages] students than last year," she said. "The families are staying here."
Martinez-Santiago came to Dalton in 1997 from Monterrey, Mexico, as part of the Georgia Project, a private program started by a non-Latino community member.
With the influx of Latinos, community leaders felt their school system needed Spanish-speaking teachers to help the newly arrived students and their families. The Georgia Project offered teachers from Mexico a three-year stint in Dalton. In exchange, about 30 teachers from Dalton went to Mexico to learn about the culture and education system. Today a handful of teachers, like Martinez-Santiago, remain in the city.
"I see this as home. It's where I met my husband and where I have decided to raise my two sons," Orlando, age 7, and Jose, age 5, she said.
"My own kids, even though they're Mexican and have the culture, they're Americans. They integrated because we did. A lot of the other Latino kids did too. They assimilate. They integrate. We celebrate Thanksgiving."
Santiago-Martinez said her kids are typical Dalton kids - vaguely aware of what adults call "immigration issues."
"Sometimes they talk about their friends' parents not being with them (because they've been arrested or deported)," she said.
But they don't have a strong sense of what makes races or ethnicities different. Their friends have white skin, and brown skin, the boys said.
That attitude seems to prevail among Daltonians, whether they're new residents or they've resided in Dalton for awhile. The Georgia Project and Centro Latino, which were created to help Latinos assimilate, were discontinued because they were no longer needed. Today, there are also fewer carpet mills so there's less of a demand for immigrant labor.
Two decades after arriving in Dalton, Mendez said his church has seen a lot of change, but he plans on being around to witness more.
"Our people are staying in Dalton," he said, "and we are staying in Dalton."