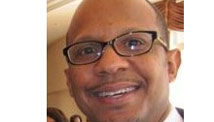 Editor's Note: George Alexander is an author, journalist and television producer.
By George Alexander, Special to CNN
"Should I stay or should I go?" The British punk band The Clash made that line popular back in 1982. And right now this lyric seems most fatedly relevant to the wives of once Republican presidential frontrunner Herman Cain, and Bishop Eddie Long of New Birth Missionary Baptist Church near Atlanta.
Recently, both women have found themselves in the media heat dealing with the dirty stuff of their husbands' alleged past bad behavior.
Former New York State first lady Michelle Paige Paterson, the first African-American to serve in that position in New York and with whom I'm working on a memoir, "The Governor's Wife," shares in the book her timely thoughts on being married to a powerful man. Bottom line: It ain't easy. Men with powerful positions and money are in many ways walking aphrodisiacs, according to Paterson. The fact that many of these powerful men spend a great deal of time away from their families and home only adds to the challenge of staying faithful.
Frequently, the wives sense that something's not right. For years, Paterson felt the relationship her husband had with a married family friend was inappropriate. A woman calling your house at 7 a.m. every day might suggest a little more than politics was on the agenda. Yet she had no idea her husband was actually sleeping with the woman.
Once David Paterson was confronted by the press about it in private, he made a true confession that his wife had, too, had an affair. He intimated that it was her indiscretions that actually led to his infidelity. It was a moment of tremendous betrayal and embarrassment for Mrs. Paterson. But she stayed and is still with the former governor.
"Marriage is a journey in life. You'll have good times and bad, but it's your faith, self-worth and plans for the future that will determine whether you stay or flee," she says.
One guesses Silda Spitzer, wife of Eliot Spitzer, the former New York governor whose lurid prostitution scandal paved the way for David and Michelle Paterson, might agree. Despite the public humiliation, Silda Spitzer stayed with her husband. Jenny Sanford, wife of former South Carolina governor, Mark Sanford, wasn't having any of it.  Having said she felt she had worked on her marriage, once her husband went AWOL in Argentina with a woman he confessed to being madly in love with, it was over.
Now take Vanessa Long. This lady seems to, arguably, have the biggest reason to run for her life: Settlement. With. Four. Young. Men.
Perhaps she wanted to believe a conspiracy was at work, that the man to whom she has been married for 21 years had been the target of some vast evildoing. After all, men of God have, since the earliest days of the church, been martyred for their beliefs. It was Eddie Long himself who made a reference to David and his battle with Goliath as emblematic of his fight with his accusers.
Last May, Eddie Long settled out of court with four young men who accused him of coercing them into sexual relationships by showering them with expensive gifts and trips, and jobs. Suggestive photos, which Long had allegedly sent to his accusers, soon followed. For many women, it would have been game over. Vanessa Long, however, stayed and seemed willing to ride things out with her husband.
Forgiveness and redemption are a critical part of the Christian edict. Maybe for her own sanity, Vanessa Long had to believe the best. In a relationship that is supposed to be based on love and a deep belief in Christian virtues, it's easy to understand how a woman married to a pastor would find herself in a painful conundrum. Can you blame her? On the one hand, her instincts, her years of living on the planet and her own voice of reason tell her that conceivably much of what her husband tells her just doesn't add up. Yet the pain of believing the contrary is so violently disturbing that it becomes easier to believe the lie. At least temporarily. But then, finally, maybe it was just too much. She had to go.
More than week ago it was announced that Vanessa Long had filed for divorce from the bishop, only to rescind her filing later that day. Although her husband's church issued a statement saying she had withdrawn her petition, her attorney said she was proceeding as planned. A week ago Sunday, Eddie Long announced that he was taking a leave of absence to focus on family matters.
In another Atlanta suburb, Gloria Cain awaited Herman Cain's arrival for their "family meeting," after which he announced that he was suspending his GOP nomination bid. There had been an onslaught of accusations of sexual harassment by several women, but finally, it was the allegation by an Atlanta woman named Ginger White that she and Cain had been involved in a 13-year affair, that put Mr. 9-9-9, a former Godfather's Pizza CEO, on a Gladys Knight "Midnight Train to Georgia." The vicious campaign trail had taught him that dreams don't always come true. For him, politics 2011 American-style simply proved too much for the man.
With husbands who appear to make poor decisions that land them in the public eye and thrust their wives into the negative media fray, the big question that looms for many is, will the wife stay? From the onset, the public seems to always know what they'd do if they were in the wife's shoes. "I'd be out!" is how the typical comment goes.
It's easy to sit on the sidelines and run someone else's life. Life has taught me that not one of us knows what we'd do in any situation until we're actually in it.
And while no one but those most intimately involved know exactly the emotional toll these events have had on the Cain and Long households, it can't be easy.
What is also at work in both the Long and Cain cases is the issue of religion and faith. Long is a pastor. Cain professes to have a profound relationship with God. The day he suspended his presidential campaign Cain said, "I am at peace with God."
The Cains have been married for 43 years. That's a long, long time in a world where celebs have Super Bowl-size, media extravaganza weddings that last all of 72 days. Yes, Kim and Kris, we're looking at you. Or in a world where the now leading GOP presidential candidate Newt Gingrich has been married three times. Gingrich's current (third) wife is the woman he cheated on his second wife with–all while demanding then-President Clinton's impeachment for his dalliance with Monica Lewinsky.  The Los Angeles Times reported that an Iowa pastor has issued a new video calling Gingrich the "GOP's Kim Kardashian," equating the three marriages with low moral character.
Setting aside – but not dismissing – the claims of sexual harassment against Herman Cain, the Cains' ability to sustain a marriage over four decades is noble. But you can only imagine what's going on in Gloria Cain's mind. Herman Cain is perhaps a much spicier slice of pizza than she originally ordered, or maybe he's the guy she's known all along. Like much of humanity, he's layered with paradoxes. He's a corporate guru yet he may have issues when it comes to boundaries and appropriate behavior with women in the workplace. He's a man of God, yet he appears to struggle to maintain fitting behavior for a married family man.
Who knows if Vanessa Long suspected anything wayward with her husband and the young men in the Longfellows Youth Academy. Again, it's so contrary to the belief system she's adopted and promulgated. She arguably leaned toward trusting him until now.
And while Cain may be at peace with God, for his sake, I hope he's at peace with his wife. For as we've learned with Vanessa Long, it might take a while for some women to get the final wakeup call on the husband's bad boy ways, but when they do, they sometimes head straight to the door.
The opinions expressed in this commentary are solely those of George Alexander.