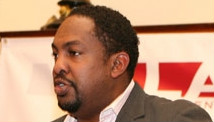 Editor's Note: Navarrow Wright is the chief technology officer of Interactive One. He was chief technology officer of BET.com and co-founder of GlobalGrind.com with Russell Simmons. Wright was featured in CNN's recent "Black in America" documentary and is on Twitter @navarrowwright.

Soledad O'Brien chronicles the journey of eight African-American entrepreneurs in the NewMe Accelerator in "Black in America: The New Promised Land – Silicon Valley" at 8 p.m., 11 p.m., and 2 a.m. ET on February 11 and February 12.
By Navarrow Wright, Special to CNN
I have to admit: CNN's "Black in America: The New Promised Land - Silicon Valley" had a significant effect on me.
It started a national conversation around topics that I have been passionate about for some time now. I have spent the last few years talking to as many people who would listen about how opportunities in technology could change their lives. This documentary has become a way to accelerate the conversation.
Following the question and answer portion of the first live-audience documentary screening, people came up to me, one after the other, saying different versions of the same statements.
"Wow, I didn't know about the disparity was this significant."
"More people have to see this documentary."
"I am now inspired to take advantage of this opportunity."
I knew then that I need to be a part of making sure this was able to affect more people. I decided that I was going to commit myself to making sure people continue this conversation about empowering minorities by helping them understand that technology entrepreneurship is a real opportunity. It's an important step for African-Americans to achieve the economic parity we long for and have fought for in so many ways and for so long.
I've been hosting screenings across the country in as many places as possible, including audiences of African-American employees at Google, students at a charter high school, college students at Rider University, my alma mater, and for the city of Philadelphia, with Mayor Michael Nutter. While the dialogue was different in each case, there were some common themes that came out of the discussions afterward.
I've never thought about technology as a career opportunity available to me.
At almost every screening - except for the one at Google - people admitted that they did not realize there were so many opportunities to work in the tech field and to become a technology entrepreneur.
I was unaware of the lack of African-Americans involved in technology entrepreneurship.
Less than 1% of Internet companies are started by African-Americans - the stat was eye-opening and discouraging. Watching the NewMe participants try to change the status quo inspired many.
I am motivated to do more.
Discovering how lucrative the opportunities are inspired many people at the screenings to say they will take more initiative for themselves and educate others to make them aware of these opportunities.
One thing has been consistent: African-Americans are missing opportunities to utilize the innovation economy for economic parity.
We are slowly becoming an underclass in a world where opportunities are abundant to others. Since my on experience as a technology entrepreneur, I've been committed to creating opportunities for exposure to as many people as I can and connecting with other future entrepreneurs to help them understand the process that needs to followed, level of focus need and the personal and professional awards that await them.  So when Angela Benton, one of the NewMe Accelerator founders, asked me to be a mentor for the program, I accepted immediately. The ability to be a part of a process that helps develop minority entrepreneurs was something I quickly and humbly accepted.
So, now that program has been covered in CNN and has become a national conversation. Does race matter in technology entrepreneurship? How can we, as African-Americans, become an active part of this ecosystem? While we all may have different vantage points and opinions on these and the other questions that are being raised, the important thing is that the dialogue is happening across the country.  I've always believed that in order to make real change, we have to change people's perspectives and show people examples that they can relate to in order to make the opportunity real. The challenge now is to make sure that enough people see the documentary and have the dialogue continue so that real changes can come of it.
It's humbling and empowering to witness the moment when someone gains a wider perspective on available opportunities and becomes motivated to act upon them. The difference between success and failure is recognizing an opportunity and then having the passion and focus to execute on it. These documentary screenings have shown me that we can get there. I'm continuing to commit myself to do more of these screenings, have more conversations and connect more people to opportunities.
The opinions expressed in this commentary are solely those of Navarrow Wright.