Editor's note: Soledad O'Brien chronicles the journey of eight African-American entrepreneurs in "Black in America: The New Promised Land – Silicon Valley" at 8 p.m. and 11 p.m. ET on December 18.
By Stephanie Siek, CNN
 (CNN) - Kimberly Bryant knows what it is to yearn and to succeed. The electrical engineer and mobile health technology entrepreneur works for pharmaceutical giant Novartis and is in the midst of launching her own company.
But she also knows what it's like to be "the only one" - the only woman, the only African-American.
That's why Bryant started Black Girls Code, a volunteer organization in San Francisco that's dedicated to teaching young girls of color about computer programming and technology. She hopes they will be better prepared to experience that yearning and success instead of loneliness and isolation. By giving them an early intro into the world of computing, she hopes they'll see it as a potential career path.
"I want to have that exposure before they go to college so that they can have [computer science professions] as a choice when they go to college," Bryant said.
Bryant founded Black Girls Code in April and finished its first program this month. Fourteen girls from ages 6 to 13 spent six weeks learning about the basics of programming at the facilities of the 100% College Preparatory Institute in San Francisco. They also took trips to leading tech companies, including Facebook and Google. The girls used a computer language called Scratch to make a simple game, and to create graphics that illustrated each girl's name and personality.
It's a bit more kid friendly than a typical day at school.
"I really enjoyed being able to win candy AND learn to code," Kai Morton, 12, wrote in a blog post  about the KidsRuby code class. "I got so much candy that after a while the teacher asked somebody else to answer a question!"
In another blog post, 7-year-old Nailah Reynolds wrote, "The one thing I liked the least about my KidsRuby class was all that typing! What I liked the most was that I could learn to hack my homework!"
There has been so much interest in the program recently that Bryant changed her original plans to start the next session in March. Now, she's gearing up for a session aimed at younger girls for January, followed by one for the older girls in March. And she's keen to open branches of the program in other areas, including Atlanta, the East Coast and the Midwest.
Bryant said the name of her organization was chosen to emphasize its focus on girls of underrepresented minorities - particularly African-Americans, Latinas and Native Americans - and to distinguish it from other programs that tend to draw more white and Asian participants.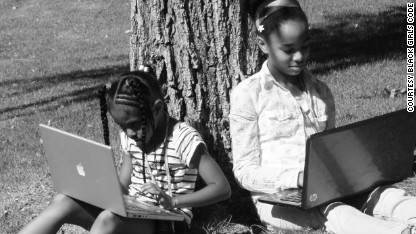 Black Girls Code participants Nailah Reynolds, 7, left, and Kai Morton, 12.
According to data collected by the National Center for Women in Technology, only 25% of computing-related jobs in 2009 were held by women. Only 2% of those women were African-American. Four percent were Asian, and just 1% were Latina.
Why is that a problem?
"One of the things that's true about the computing talent pipeline in this country is that it's really in jeopardy," said Lucy Sanders, CEO of the National Center for Women in Technology. "With the degrees we're granting now, we're only going to graduate enough people to fill a third of the jobs … We're not going to fill this talent pipeline if we only go to the places where we've always been traditionally looking."
Baratunde Thurston: 'Letter from a poor black kid'
The field needs diverse voices to serve an increasingly diverse population, Sanders said.
"Computing is a creative endeavor, and when you have a diverse set of voices at the design table, you're going to have people creating technology in different ways than if it was a homogeneous group," Sanders said.
Lack of access to technology and computer science classes in schools and a lack of role models and mentors are among the barriers that make it difficult for women and people of color to enter - and stay in– computer and technology fields, according to the 2009 Anita Borg Institute for Women in Technology report, "Obstacles and Solutions for Underrepresented Minorities in Technology." The report said educators might overtly or subconsciously steer them away from the sciences as a career, and some experience feelings of isolation and exclusion caused by being the only woman, minority, or minority woman in the workplace.
Another factor is tokenism, in which the person feels more closely scrutinized or more harshly judged because they are "the only one" in the organization.
Study: Innate gender gap in math is a myth
Black Girls Code aims to show girls who are used to being consumers of technology - on computers, tablets, mobile phones, iPods and gaming consoles - that they can have a role in creating it. But first, Bryant had to get some of them to throw out the outdated, stereotypical image of a computer programmer - a white, geeky man sitting alone, punching numbers into a keyboard in front of a dimly lit computer screen.
"That doesn't resonate with most girls, especially elementary and middle school girls," Bryant said. "We do a lot of group work and pairs programming projects because they need that connection and collaboration. So that helps break down the stereotypes of always being alone."