Editor's note: This is part of a series of stories about the changing American suburbs.
By Rachel Rodriguez, CNN
(CNN) - Ah, the suburban stereotype: The houses that look the same, the big box stores that look the same, the cul-de-sacs that look, well ... the same.
But according to CNN iReporters, the cliché isn't entirely accurate. Almost every suburb has something that makes it a little different or special, from a beloved restaurant to a historical landmark.
Take Kathi Cordsen, who lives in Fullerton, California, a suburb of Los Angeles. She can drive about seven miles from her home and be at President Richard Nixon's birthplace. It's an unassuming little white bungalow that's technically in Yorba Linda, California - another L.A. 'burb. It's so unassuming, in fact, that Cordsen at first didn't believe it was actually Nixon's home.
"It doesn't look like it did when I moved into this neighborhood 22 years ago," she said. "It was actually falling apart and in shambles. I met the people that were living in it because they used to have garage sales there. They told me the story about the house but I didn't really believe them until someone decided to fix it up and put a library next to it."
The house and adjoining property are now home to the Richard Nixon Presidential Library.
About an hour down the road, Encinitas, California - a suburb of San Diego - has its own unique landmark. But this one's not a historic site; it's a piece of graffiti art.
Every town has its graffiti, sure, but this 10-foot mural in Encinitas has gotten national attention. It's known as the "surfing Madonna:" A mosaic of Our Lady of Guadalupe on a surfboard, flanked by the phrase "save the ocean."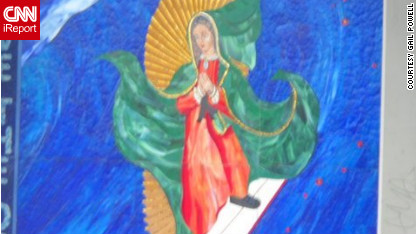 The "Surfing Madonna."
Admirers of the piece often tie up traffic. And when city officials ordered it taken down, residents like Gail Powell, who shared its story with CNN iReport, protested. They were so passionate that the piece is now under consideration from the city to be a fully legal art installation.
"The surfing Madonna has united the city of Encinitas like nothing else," said Powell. "It really is not just about an artist placing some rogue art under a train bridge, but also a story of how a community came together in support of the art and the artist."
A final decision regarding the piece will be made in January, and Powell and other supporters plan to be at the city council meeting to make sure their voices are heard.
Take iReport's Cultural Census
It's not just unique landmarks that can make a suburb special to the people who live there. Sometimes it's just a vibe, the atmosphere of a place. Just ask Helen Dietrich of the Hough's Neck community in Quincy, Massachusetts. She says the intimate, small-town feeling is why she's lived in the Boston suburb for 20 years.
"It is a relatively safe, community-orientated neighborhood where neighbors still look out for each other," she said. "Generation after generation stay on the 'Neck,' forming a close-knit community, and proudly declare that they are 'Neckers.' "
At the same time, Hough's Neck is only a few minutes outside Boston by train or car. Residents get a lovely combination of a rural atmosphere, including plenty of water, a national park, and a fishing pier, and great views of Boston.
CNN Photos: Photographer Bill Owens' 'Suburbia,' 40 years later
That best-of-both-worlds combo is a bonus of many suburbs, and it's unmistakable in Janie Lambert's town of Hughesville, Maryland. Hughesville is outside of Washington, but it has some unique neighbors that you probably don't think of as big city dwellers: the Amish.
"It is not unusual to pass them on the highway or see their horse carts or buggies tied to special hitching posts at the local store," says Lambert.
"The Amish Flea Market is a must if you are in the Washington, D.C., area, and is well worth the trip. I am glad I don't have to go very far to get my chow chow and sugar-free apple butter."
For these iReporters, living in the suburbs means a lot more than little boxes filled with the doctors, lawyers, and business executives of the famed satirical song about suburban America.
What about you? If you live in a suburb, what makes it unique? We'd love to hear your stories of the non-cookie-cutter 'burbs.