Editor's note: This is part of a series of stories about the changing American suburbs.
By John D. Sutter, CNN
Levittown, New York (CNN) - As Polly Dwyer drove from Queens, New York, to "the boondocks" of central Long Island, she felt like she'd fallen off the face of civilization.
"My God!" she thought. "Where are we going?!"
She stared out the windows of her husband's 1940s Chevy, aghast at the potato farms and cabbage fields. How were they going to live all the way out there, 45 minutes from the city? She was a college student, after all, not a farmer. And what would this new-era community be like, anyway?
The word "suburb" didn't even exist back then, in the late '40s and early '50s. It was a concept they would help create in a new community called Levittown.
More than 60 years later, Dwyer - an 83-year-old who wears a short, Janet Napolitano-style haircut and a gold necklace that says "Polly" in cursive - is firmly rooted in Levittown, New York, the place heralded as the first true example of an American suburb.
The suburban, auto-based ideal Levittown created in 1947 has plowed its way across the United States, reproducing "like a strange, unnatural new life form," Esquire magazine wrote in the '80s, in copycat communities from Florida to Alaska.
These days, however, times are changing. It's not that the suburb is dead, but in an era of home foreclosures, environmental concerns and urban revival, some Americans are starting to turn their backs on the Levittown mold. These changes are beginning to show in Levittown, too, a place that still longs for the sense of community and purpose that it had at its inception six decades ago.
Dwyer and other Levittown pioneers say they'll stay here until they die. But here's the uncomfortable truth:
The Levittown they knew may fizzle out with them.
'Our own square plot of land'
They saw the ad in the newspaper. New homes for World War II veterans: "All Yours For $58!"
It was an opportunity they couldn't pass up.
When the couple arrived in Levittown to look at the new-era community, with its Monopoly houses arranged on a membrane of elbowing streets and cul-de-sacs, Polly Dwyer was pregnant with her second child and eager for a change.
After her husband returned from war, they'd moved in with his parents, who rented a two-bedroom apartment in Queens. "That would have been enough to kill anybody's marriage," she said, laughing. The idea that she could own a home - her own four walls, without the in-laws, without the city noise - "seemed too good to be true."
"It was heaven," she said of Levittown. "Heaven, heaven. Our own square plot of land."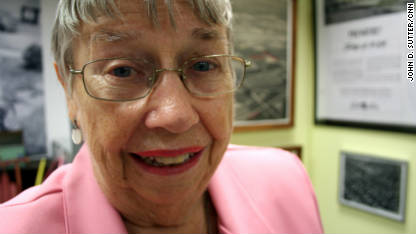 Polly Dwyer has lived in the same Levittown house for six decades.
A salesman drove the couple through town. He showed them a model home, a Cape Cod, which was one of two types of houses that the Levitt brothers - William, the promoter, and Arthur, the architect - gave as options.
Each one was just like the next: On the outside, two eye-like windows, one on each side of the front door, gave the Cape Cods a kind, anthropomorphic appearance; and inside, designers squished two bedrooms, one bath, a kitchen, a living room and a staircase to an unfinished attic into a 750-square-foot package - the size of a modern apartment.
There were slight external differences. Homebuyers could choose from one of five colors and one of five window-arrangement patterns.
But they were so similar that Dwyer had to look at her first home only from the curb.
"We actually didn't see the inside of the house," she said. "We had seen the inside of another Cape, and they said, 'Well, it's exactly the same.' "
They put $100 down on the $8,500 house (about $75,000 in today's currency).
They got that deposit back upon closing.
A new home 'every 15 minutes'
Levittown emerged from a need in America.
Thousands of veterans returned home from World War II to find that they had no place to live. Some were so hard off, they took shelter in chicken coops and tool sheds.
"From foxholes to shacks," one protest sign read. "We had more room in foxholes."
William Levitt had the answer: cheap housing on the city's fringe. His family company, Levitt & Sons Inc., purchased potato farms in central Long Island, near the town of Hicksville, and started to work building a new America.
This "cocky, rambunctious hustler with brown hair, cow-sad eyes, a hoarse voice (from smoking three packs of cigarettes a day)" aimed to make his company the "General Motors of the housing industry," Time magazine wrote in 1950.
He developed a new method of home construction to make it happen, producing housing components - from the plumbing to pieces of the frame - and then assembling them on-site. Each Levitt & Sons construction worker had one of 26 specified tasks, and they did them over and over again, which increased efficiency.
"A new (home) was finished every 15 minutes," Time wrote.
From 1947 to 1951, Levitt built more than 17,000 homes in Levittown. The U.S. Federal Housing Administration encouraged the boom by backing the mortgages of returning veterans, allowing them to put virtually no money down.
That let Dwyer and her husband chase a new American dream.

"The all-alike place"
Right from the start, Dwyer was weirded out by the sameness of Levittown.
"I was not impressed, frankly," she said. "I said, 'Oh, they're all alike. Look at 'em!' And we were just going to go in the middle of the all-alike place?
"But you settled in slowly, and then it became my life."
Photographer Bill Owens' 'Suburbia,' 40 years later
For decades, the "all-alike place" has been a stand-in for the suburban experience.
Dwyer and other longtime Levittown residents remember a tight-knit and restrictive community, where everyone was young, everyone had kids and everyone helped each other out in times of need. When Fred Johs needed help with a down payment for the house he was renting in the 1950s, for example, neighbors stepped in to help.
That gesture is the reason the 88-year-old is still in a Cape Cod home today.
The community was puppeteered by Levitt, who banned fences, installed swimming pools and village greens (Levitt-speak for strip malls) and required lawn maintenance.
Dwyer recalls getting an anonymous postcard in her mailbox on a day when her husband had parked their car on the front lawn because it wasn't working.
She recalls it saying, "You're not supposed to put cars on the lawn. It looks bad for the neighborhood."
Dwyer learned to live in the confines of Levitt's world.
And over time, she started to prefer it.
"Everybody wanted to be like everybody else," she said. "I wasn't a free thinker. I was very comfortable. I looked like everybody else; the houses looked like everybody else's. I was happy that way. I'm the kind of person who gets the furniture the way they like it, and I never change it."
'I barely know my neighbors'
The changes started slowly: a home addition here, new siding there.
Now, Levittown barely resembles its past.
Nearly all of Levittown's homes - all of which started out as Cape Cods, with their box-like symmetry, or ranches, which were slightly more rectangular - have been altered almost beyond recognition. The homes have had their frames stretched, pulled, pumped and popped to the point that they look like Cubist-painting versions of their former selves, additions and alterations jutting out in every which way from the same starter models.
Dwyer painted her Cape Cod yellow, tacked on additions for things as large as new bedrooms and as small as solar water heaters and refrigerators.
This year, she added a porch on the front.
The change has had social as well as aesthetic ramifications. Levitt homes were so small that they forced people to socialize.
Now, with large homes and plenty of creature comforts, few venture outside during the day. "It's so different now," Dwyer said. "I barely know my neighbors."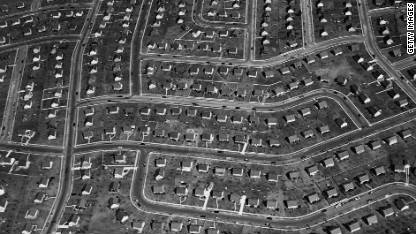 Levittown, New York, pioneered suburban development in America.
There were financial consequences, too.
Marion Gilbert, an 86-year-old who moved to Levittown in 1949 and has been in the same ranch-style home since, worries that her family members will have to leave Levittown - perhaps all of Long Island, for that matter - because homes are so costly. These days, the commute into the city can take hours.
Her son-in-law and two of her grandchildren are out of work because of the Wall Street crash a few years ago. Right now, amazingly, all of her 15 grandchildren and 27 great-grandchildren live within a 10-minute drive of her home. But she fears that will change.
The suburban dream isn't the same for them, she said.
"It'll never happen again," she said of the suburban boom.
And that's too bad: "It was a much nicer way of living."
'They were all like me, unfortunately'
In other ways, Levittown has been a stalwart, resistant to change.
Dwyer, for example, has never has had a friend from a racial minority.
"They were all like me, unfortunately," she said of her friends in Levittown.
That's not as much her fault as it is the consequence of Levittown's original leases, which declared: "The tenant agrees not to permit the premises to be used or occupied by any person other than members of the Caucasian race."
Levittown was a white-only community. And it largely remains so today. Eighty-nine percent of Levittown residents identify as white, according to the Census's community profile on Levittown.
That bucks a national trend. In 1990, 19% of suburban residents were minorities; in 2010, that number is 35%, according to an analysis from the Brookings Institution.
"You might find more diversity in suburbs than in center cities in some places," particularly because immigrants are increasingly moving straight to the suburbs instead of to the inner city, said June Williamson, an associate professor of architecture at the City College of New York and author of the book "Retrofitting Suburbia."
Brookings' William Frey said suburbs used to be associated with the white middle class. That's no longer the case: "The suburbs are kind of a microcosm of America. It used to be, when you said you lived in the suburbs, you were telling somebody something about who you are demographically, and now you're not telling anything about who you are."
There are some signs that Levittown's white-only façade is cracking, too.
Younger residents have a larger minority contingent than older residents, according to 2010 Census data.
Several Asian- and Indian-owned businesses have opened on the fringe of town.
There aren't exactly racial tensions in Levittown, just a lack of understanding, said Lara Lineman, 24, who was adopted from Asia by white parents.
Kids teased her about her ethnicity when she was growing up, she said.
"Levittown is just mostly a white town, and people aren't used to that much diversity," she said, "at least not when I was growing up."
Dwyer recalled race being a hot-button issue in early Levittown.
A Chinese family created a stir when it moved onto her block in the 1960s.
"The next day, on either side, for sale signs went up," Dwyer said. "At the time, I must say, I was relieved they didn't move closer to me."
She's since changed her attitudes - or at least has tried.
The Attention Clinic
It's a hot issue in academia to think about what suburbs may become.
An upcoming exhibit at the New York Museum of Modern Art, called Foreclosed: Rehousing the American Dream, proposes several visions, including one that would integrate nature more sustainably into the suburbs and another that would try to make suburban neighborhoods denser.
Something has to change, said Barry Bergdoll, MoMA's curator for architecture and design, or we will "roll the suburban carpet across all the open land that is left."
"It's just irresponsible to have a model that encourages moving out onto green fields and leaving behind decaying rings of an ever-fattening tree," he said. "I'm interested in not just letting the path of least resistance exist. It's cheaper for a developer to build on virgin territory, but it's not cheaper for people to live on it or get to it."
This year, another group of designers descended on Levittown to imagine "a future suburbia" in the place where the concept was hatched.
Dwyer found all this "very strange," but she agreed to participate.
For a day, a designer named Claudia Linders turned Dwyer's Levitt home into an "Attention Clinic." Patrons sat in her living room and waited for a chance to receive advice, attention and/or hugs from Dwyer and two actors.
The idea was to make suburbia profitable rather than just a place where people live.
"They kept choosing me (for advice), I guess because I was older and wiser," Dwyer said, cracking a smile. "Because these actresses, they were beautiful."
All this attention confused Dwyer, who said she was happy to give out advice to strangers but felt somewhat unqualified to make life decisions for them.
One woman came to her in a panic, she said, asking whether she should stay with her current job or follow a whim and travel the country, which she's always wanted to do.
Dwyer's advice - brewed from decades of living in a community that values sameness and conformity over adventure and change - was to stick with what works:
"I'd say, 'Well, stay there.' "