Editor's note: This is part of a series of stories about the changing American suburbs.
By Jessica Ravitz, CNN
Manicured lawns, minivans and modest-homes-turned-McMansions: They're the sorts of symbols that might come to mind when we think modern suburbia.
But peer inside the windows at the people living there and the American suburbs are increasingly complex, the 2010 U.S. Census and other reports show. We've come a long way since "Leave It to Beaver."
The suburbs – or rather suburbanites – represent an evolving America. And what exists today would leave June Cleaver's perfectly coifed head, and even her strand of pearls, spinning.
Relying on various census reports culled and crunched by seasoned demographers like those at the Brookings Institution, we present a mere taste of what can be learned about the changing face – or faces – of suburbia.
Flight: It's not just for whites
Across racial and ethnic lines, population growth in suburbs outpaces cities, which means it's time to toss the stereotypes.
While 78% of metropolitan-area whites live in suburbs, the 2010 Census also shows that for the first time more than half of each minority group in metro areas is staking a claim to suburban living.
Key among the findings is what internationally renowned demographer William Frey, currently a senior fellow in the Metropolitan Policy Program at Brookings, calls "breakthrough 'black flight.'" In 1990, 37% of metro area blacks lived in suburbs. By 2000, that number had gone up to 44%. The latest census tips the scale to 51%.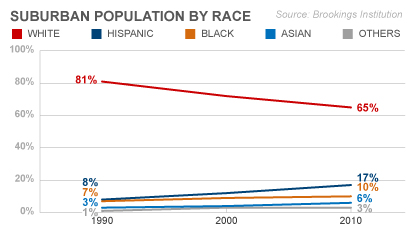 The same trend is true for other major metro area minority groups, with 59% of Hispanics and 62% of Asians choosing suburbia over city living as of 2010.
Nationwide, minorities make up 35% of all people living in suburbs. And there are now 16 large metro areas – twice as many as there were in 2000 – where minorities make up the majority of the suburban population. Among them: Washington,D.C.; Miami; Houston, McAllen and El Paso, all in Texas; Albuquerque; Honolulu; Las Vegas; and, in California, Riverside, Los Angeles, Bakersfield, Fresno, Modesto, Stockton, San Jose and San Francisco.
Ingredients in a growing melting pot
Chinatowns, Little Italies, the Lower East Side of Manhattan. City enclaves for immigrants, once expected, now might be a trend of the past.
From 2000 to 2010, the U.S.population grew by about 10% to nearly 309 million. Of the more than 27 million added to the census in the last decade, about a third were immigrants – both legal and illegal, according to the Center for Immigration Studies.
Nearly 14 million immigrants arrived between 2000 and 2010, while about 5 million left or died – a net increase of 8.8 million. All told, the center reports, 40 million immigrants are now living in the United States, around three-quarters of them legally.
About half of the 14 million who arrived in the last decade were Latino or Hispanic, says demographer Steven Camarota, director of research at the Center for Immigration Studies.
Latinos now number 50.5 million in the United States and outnumber blacks as the largest minority group, the Pew Hispanic Center reports.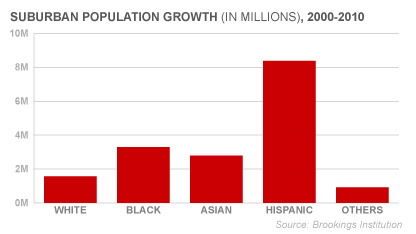 Thirty years ago, 43% of U.S. immigrants lived in suburbs, wrote demographer Audrey Singer, an expert on international migration who is also a senior fellow in Brookings' Metropolitan Policy Program. By 2010, the majority – or 51% - made their homes in suburbia.
Immigrants follow settlement trends, which means in places where suburbs rule many immigrants bypass city-living altogether. Highly suburbanized Atlanta is a perfect example, says Singer, where 95% of immigrants – and 92% of all residents – live in the suburbs.
Living the less dreamy dream
Once viewed as a blissful bubble, the suburbs are no longer immune to the challenges facing all of society. Enter, for example, poverty. A third of the country's poor, and most of the poor living in large metro areas, call "Pleasantville" home, Brookings reported.
CNN Photos: Bill Owens' 'Suburbia,' 40 years later
Between 2000 and 2008, the poverty-stricken population grew in suburbs by 25%, nearly five times faster than it did in cities.
The number of suburban poor also grew three times faster rate than the overall suburban population.
From 2000 to 2008, a Brookings report shows, the total number of people living in suburbia grew 13% to 132 million. By 2009, about 14 million of those were poor – up from 10 million in 2000, a jump of about 40%.
Today, one out of 10 suburban residents is impoverished. Of the poor suburbanites, 83% are American-born; the rest are immigrants.
Who'll shovel the walk?
The post-World War II birth of suburbia ushered in an onslaught of children. These baby boomers, born between 1946 and 1965, now number about 80 million and account for more than a quarter of the population, according to Brookings' Frey.
By 2010, boomers were between 45 and 64 years old. Including those older than the boomers, Americans 45-and-up grew 18 times faster than younger folks over the last decade. By way of jarring comparison, the 55-64 age group grew by more than 50%, while the 35-44 lot fell by 9%. The greatest growth in the under 45 group was in the 15-24 age range, but even that population grew by little more than 11%.
The vast majority – or 72% of 45-and-up Americans – are living and aging in suburbs. Collectively they make up 40% of all suburban residents.
iReport: See what makes some suburbs unique
Meanwhile, suburbs in 38 of the 100 largest metro areas showed a decline in their 45-and-under populations between 2000 and 2010, Frey reported.
With the exception of New Orleans, which can attribute its population shift to Hurricane Katrina and its aftermath, all the other top-10 suburban areas to experience 45-and-under declines were in the Snow Belt. They include Pittsburgh, Cleveland, Detroit and Buffalo.
If the Cleavers were house hunting today…
Modern suburbia, and America in general, is more racially diverse than ever. But there remains one true exception, and that is in a land often referred to as the "exurbs," says Frey.
These exurban counties, which sit on the periphery of large metro areas, are low-density and overwhelmingly white. And while they account for just 2.5 million people, little more than 1% of large metro populations, these counties are growing fast – at a rate three to five times faster than the U.S.average, Frey reports.
The 20 fastest-growing exurban counties dot the country and include areas outside Atlanta, St. Louis, New York and Ogden, Utah.
Sixteen of these 20 counties are more than 75% white, Frey reports. And whites can be credited for 73% of all exurban population growth, which stands in sharp contrast to what whites are contributing to overall population growth. Between 2000 and 2010, whites accounted for just 8% of the country's population increase.