By Claudia Morales, CNN
(CNN) - This holiday season, one group of women in Columbus, Georgia, decided to try a new, kinky hairstyle on one of pop culture's most enduring beauty icons: Barbie.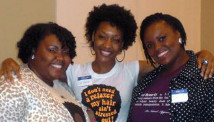 Using simple at-home methods, the Fro-lific meetup group turned the straight, shiny hair on 40 donated Barbies into natural-looking curls.The dolls went to girls living in a housing complex in Columbus - girls who might not have gotten the word that beauty isn't always tied to long, blond hair.
Fro-lific was organized by Layoce Mims and Candace McBride after they attended 'Fro Fashion Week in Atlanta. Their mission: provide support for women - and girls - who wear their hair natural. They plan to remake more Barbie styles in the future, Mims said.
Here's what Mims had to say about the group and its Barbie makeovers.
CNN: What is natural hair?
Mims: Natural hair is no relaxer, no chemical to straighten your hair out. The way it grows out your root, that's the way you rock it.
CNN: What made you decide to start the Fro-lific meet-up group?
Mims: We thought to start the group after attending the 'Fro Fashion Week in Atlanta. We had such a great experience, so we were thinking of what can we do to bring back it back to Columbus. So, we thought to start a meet-up group to provide encouragement and support for other natural hair women or men. All the support seems to be online or on blogs, we thought, 'If you could really see someone going through it, and wearing their hair natural or transitioning, like being able to touch it, you can really see what they're doing in person and it can encourage them to follow through with the natural process instead of going back to the relaxer.'
CNN: Why was it important to give the girls Barbie dolls with natural looking hair?
Mims: We have encountered some African-American or biracial children who have natural hair, getting picked on about the texture of their hair, how it wouldn't lay or didn't look or feel like the other children's hair, so they didn't love their hair and our job is to let them know that their hair is beautiful the way it is.
CNN: How did you know how to change the Barbie dolls hair?
Mims: Ms. McBride got the idea off blackgirllonghair.com and what they say to do is take the hair and twist it around pipe cleaner, then you dip it in boiling water and you just let it sit out and dry for a couple days and you untwist it off the pipe cleaner and it gives the hair a very curly, kinky look.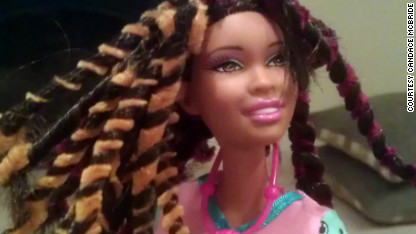 CNN: What do you think about the Barbie dolls that are sold in stores?
Mims: The Barbies in the stores have very long, straight hair, most are Caucasian, it's hard to find black dolls with the dark eyes, and when we did get the dolls with the brown eyes, we thought it was important to take those dolls and change their hair so they do resemble more of a natural African-American hair.
Poll: Would you pay more for a doll of a specific race?
CNN: Why is it important for the girls to have dolls that look like them?
Mims: So they can have something to relate to, so they won't idolize the dolls with straight hair that don't look like them. They see the dolls with the curly hair they will accept their curly hair. They don't want to wear their hair curly, the way God made it, they want it straight because that's what they are seeing.
CNN: What was the response from the girls after you gave them the Barbie?
Mims: They loved it. You had the little girls holding up the dolls to their face and saying 'Oh, she looks like me.'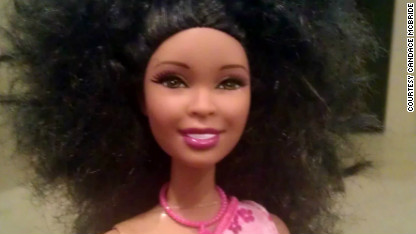 CNN: Did you wish someone did this for you when you were growing up?
Mims: Growing up , I probably had two Barbies, ever. My mom couldn't afford it. She bought me two, they were white. I would have liked the doll to look like me so I could relate. I grew up wanting long hair because of what I was playing with, and what I was seeing and everyone around me had the same conception. If I had a doll that was black and curly hair, and not just a doll, but someone saying 'It's OK for you to wear your hair natural,' I probably would have been more accepting of it before now.