By Stephanie Siek, CNN
(CNN) - One of Archie Comics' archetypal all-American teens is getting married – and it isn't to girl-next-door Betty Cooper or scheming sophisticate Veronica Lodge.
A year after introducing Riverdale's first gay character, Kevin Keller, Archie Comics is showing his marriage to an African-American physical therapist named Clay Walker. The issue with their wedding, "Life with Archie #16," debuts at comic book stores January 4 and newsstands January 10.
It's part of a series that imagines the gang five or six years after graduation, with two alternate timelines - one in which Archie married Betty, another in which he married Veronica. Kevin's wedding appears as part of a story showing Archie and Betty's married life.
Kevin Keller is shown to have followed in his Army father's footsteps - in images released to CNN, readers learn that he served in the military and was injured while serving in Iraq. He meets Dr. Clay Walker while in a hospital's rehabilitation unit.
Clay helps Kevin regain his ability to walk, and the two become friends. But it's not until a chance meeting in an airport that they start dating.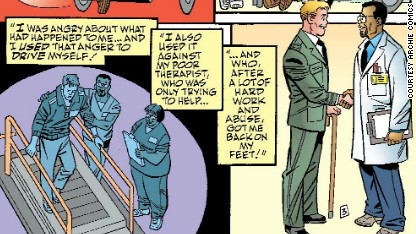 Archie Comics CEO Jonathan Goldwater said it's part of a concerted effort to make Archie's universe mirror the diversity and complexity that today's readers encounter in their lives. Archie's first comic book appearance was in 1941, and the core "gang" of Archie, Jughead, Betty and Veronica had, for the most part, changed only cosmetically.
"Riverdale, Archie and the gang are set in high school, and we ran a risk, unless we reflect what's going on with kids today in the real world, of becoming irrelevant," said Goldwater, the son of Archie creator John L. Goldwater.
Archie is far from the first comic book to introduce a gay character - gay, lesbian, bisexual and transgender characters have played leading roles in superhero and alternative genres for two decades. The Comics Code Authority, an industry body, explicitly banned any mention of homosexuality in comics until 1989, although writers sometimes hinted at a character's sexuality. LGBT readers often identified with superheroes' double lives and feelings of being somehow different.
But Riverdale is still a pop culture symbol for all things wholesome, moderate and Midwestern, and Kevin Keller's success seem to indicate that readers think he fits right in.
Goldwater said the creation of Riverdale High's first gay student resulted in only seven canceled subscriptions, and "hundreds and hundreds" of new ones. Archie Comics sold out of Kevin's four-issue miniseries. Kevin is also getting his own title, published every other month, in February. Creator Dan Parent said dating will be a major part of his storyline - as it is in every Archie character's narrative.
"And of course it won't be as smooth as you think it will be, because it's an Archie comic," Parent said. "The story really revolves more around Kevin preparing for the date, and the influence of the gang helping him in going on his date."
Part of the reason Kevin has proven so popular may be the fact that his sexuality is handled just like that of the heterosexual characters – as part of their storyline, not a gimmick.
"Sexuality is a trait that's a facet of a character, but is not the single defining characteristic when the writer is doing a good job," said Bob Bretall, co-host of the Comic Book Page Podcast. "I applaud Archie for creating a character where being gay isn't a pejorative and showing that it's possible for the Riverdale characters to interact with Kevin as they would interact with any other person."
Matt Kane, the associate director of entertainment media at the Gay and Lesbian Alliance Against Defamation , said he's pleased with the way Kevin's life has been handled so far. He said it's important for teens to see a future in which loving relationships – be they same-sex or opposite-sex – can be recognized and celebrated.
"Riverdale is this picturesque vision of American life, and when you see yourself reflected in that, you have a role in even the most idealized version of the reality you live in," Kane said. "That's the difference between feeling like a rejected outsider and feeling like you're a part of something."