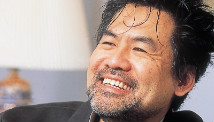 Editor's note:  David Henry Hwang's plays include "M. Butterfly" (1988 Tony Award, 1989 Pulitzer Prize Finalist), "Golden Child" (1998 Tony Award nomination, 1997 OBIE Award), "Yellow Face" (2008 OBIE Award, 2008 Pulitzer Prize Finalist), FOB (1981 OBIE Award), "The Dance and the Railroad" (1982 Drama Desk Award nomination), "Family Devotions" (1982 Drama Desk Award nomination) and "Bondage." "Chinglish" is a comedy about miscommunication.

By David Henry Hwang
As a kid,  China was almost as mysterious to me as to my non-Asian friends. I'm a first-generation Chinese-American baby boomer born and raised in Los Angeles. My immigrant parents chose to raise their children as 100% American. We didn't practice Chinese customs; I never even knew the date of Chinese New Year. Because they spoke different Chinese dialects, it was easier for my parents to communicate in English, so my sisters and I grew up as typical monolingual Americans.
I thought of my ethnicity as nothing more than an interesting detail - like having red hair. Still, if I knew a particular movie or TV program was going to feature Asian characters, I would go out of my way not to watch it. I somehow knew the portrayal would be demeaning, embarrassing, and leave me feeling "icky."
I started writing plays in college with no intention of telling Chinese or Asian-American stories. As I learned to create more from my unconscious, however, they started appearing on my page. Clearly, some part of me was extremely interested in my ethnicity, but my conscious mind hadn't figured that out yet. Even when I turned to writing Asian-American plays, however, my emphasis remained on being American. We were tired of being perpetual foreigners; one's forbears might have arrived in this country two or three generations ago, but people would still say to us, "Oh, you speak such good English!"
In 1993, I first visited China with my parents and siblings, on a "roots trip" to see where my father grew up. I returned in 2005, and have continued to travel there once or twice a year. China has become interested in Broadway-style musicals, and I happen to be the only even nominally-Chinese person who's ever written a Broadway show. I expected that "real" Chinese people would be vaguely ashamed of me. I didn't know the customs, and had to communicate through translators. Instead, I was pleasantly surprised that they accepted me as a Chinese - an "overseas Chinese," but one of them nonetheless.
On one visit, I was taken to a brand new cultural center in Shanghai, which was gorgeous except for the ridiculously translated signs. For instance, the handicapped restrooms said, "Deformed Man's Toilet." I began to think of using these signs as a jumping-off point to write a play about doing business in China today, one which would tackle the issue of language. In most of our plays and movies, when an American character goes to, say, Brazil, everyone speaks English - with a Brazilian accent. I imagined my Chinese characters having the dignity of their own language, with an American audience reading the translations through projected supertitles. In short, I wanted to write a bilingual play - without being bilingual. Luckily, I was friends with a wonderful Hong Kong-based playwright, Candace Mui Ngam Chong, who agreed to become my translator.
The result is my new comedy, "Chinglish," which recently opened on Broadway and explores the many ways human beings misunderstand one another. So, do audiences understand the play?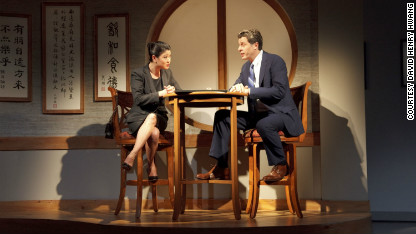 "Chinglish" is about an American businessman in China.
Based on audience feedback, I'm happy to report that theatergoers appreciate and love how "Chinglish" illuminates the joys and challenges of communication. Chinese nationals and Asian-Americans appreciate the three-dimensional portrayals; many have told us that the show makes them feel "proud." Others simply find the story and themes universal, particularly its central romance. Those with experience in China tell us we've "nailed" how it feels to live and work there, and ask me how I managed to understand this.
Therein lies a surprising revelation about myself as an Asian-American. Language is only the most superficial barrier to communication. Even with translation, people of different cultures often fail to grasp true meaning, because underlying assumptions can differ so radically. In China, though I had to overcome the language barrier, the deeper cultural mindset - how I was expected to act in the meeting or at a dinner, or behave around my hosts - felt surprisingly natural. Deep inside, I knew more about being Chinese than I had even been aware.
Today, I see younger Asian-Americans embracing the idea of multiple identities. In an ever-shrinking world, with routine movement across national borders, we don't necessarily have to choose between one culture and another. Instead, we can embrace all the influences that make us who we are.
This is what I've tried to create in "Chinglish": an East-West comedy which embraces both sides, denigrating neither. So, as someone who once avoided portrayals of Asians in entertainment, my greatest satisfaction comes from hearing Asians and non-Asian audience members, sitting side by side at the Longacre Theatre - caught up in the play, and laughing together.