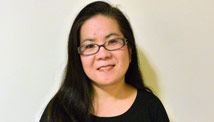 Editor's Note: Jeannie H. Lee is the mother of two bi-racial sons and a stay-at-home mom. She received a Masters of Divinity degree from Yale Divinity School and previously worked as a community organizer with Church Women United.
By Jeannie H. Lee, Special to CNN
I struggle always to describe our boys because, unlike me, with one distinct ethnic identity – Korean – they are many: African, Native American, Korean and probably some Caucasian, too. Words to describe them are abundant – multi-ethnic, multi-racial, blendian, AmeriAsian, AfroAsian. A friend, Rasha, created a new word just for them, BlacKorean. But none really worked for me.
I don't cry easily or readily but when I first heard Jeni Fujita perform her song, "The Color of Water," I let the tears flow in that dark corner of the club. She spoke to my heart, the part of me that's a mother to two beautiful boys who I gave birth to with my African-American husband. She gave me words I struggled to find for so long.
Where are you from little daughter?
What's the color of water?
"But mama why is she different than me?"
Baby this is how you were made to be.
Like a rainbow in the sky
Like the color of your eyes
Underneath our skin, we're the same little daughter
Like a rainbow, each race in them is distinct. But the edges blend together just slightly, so it's clear each is its own. They stretch out to cover the whole sky; a blessing because, in them, there is an abundance of many; and burden because they embody not only one people, but many peoples.
They are like water because water changes color and direction and easily blends with other waters. They are powerful enough to wear away the hardest elements on earth, gentle enough to flow as tears. Like water, they look different, depending on their surroundings, on who is around them or where they are, they look "darker", "lighter," are called upon to take on Korean cultural mannerism, or to be a part of the brotherhood of brown boys.
In appearance, genetics and heritage, I am clearly Korean. I was born in Korea. I am American because I moved here with my parents 40 years ago and I've adopted and integrated this country into my being. Now, I'm so much more because my two beautiful, incredible sons have pulled me into new worlds I never imagined.
They make me better. They made me really stretch beyond my own Korean boundaries. Because of them, I am no longer only Korean.
By choice, we moved uptown to Harlem, where we could better raise our boys. We sought schools where our boys would be one of many, and to our delight, we have found such diverse schools. Because of these two early choices in our family life, I became engaged with the Latino and African-American communities in ways I had not before. My world before then was very "pale." Recently, through my involvement at Occupy Wall Street, I find myself speaking passionately for Harlem, a predominantly black community, when clearly, there is not an ounce of genetic blackness in me. I often get puzzling looks from people and I realize it has to do with how I don't look like they expect me to look. But my connections to Harlem are through our boys. One of the most important reasons why I represent Harlem so passionately is that until our boys can be advocates for themselves, as members of this world, it's on me to be their voice. I had no choice but to become black myself.
Their great-grandmother on their father's side is full-blooded Cherokee and so they, too, are members of the tribe. Thankfully, I've become good friends with "blendian" friends who opened this community to us, taking us to Pow Wows where our boys are engaged in and exposed to the Native American community, their community. Our youngest has been challenged with developmental delays, including sensory issues that meant he couldn't stand or tolerate anything rough against his feet. He would wail if I put him in a small patch of grass. At our first Pow Wow three years ago, he ran around barefoot all day.
I practically cried. I knew his Native American ancestors and spirits who helped him overcome this hurdle in life. He changed and continues to change because of the connections and bonds he has with his Native American roots. I had no choice but to become Native American myself.
When our boys were born, I thought they were going to be lonely. I didn't see many children of multiple ethnic, racial origins and that concerned me. I'm relieved to report that's not the case, that they won't be as isolated as I once thought. Their schools and our home community have many students from multi-ethnic and racial backgrounds.
The 2010 census allowed respondents to check off more than one box for racial and ethnic identity. I'm pretty sure we checked off at least three boxes for our boys - black, Asian/Pacific Islander and Native American. Racial politics and self-identification is rapidly and radically changing in this next generation.
Rainbow. Water. Our boys are that. Neither can be held in your hand. Both are slippery. That is our boys, so slippery at times that I can barely hold onto them. But nonetheless, I'm required, mandated to hold onto them - not control them but hold onto them to keep them safe, grounded and prepared for the world that they are, that is theirs.
It's overwhelming at times and mind-boggling to imagine that the world is these two creatures I am guardian and mother to. I'm responsible for helping to figure out all those strands and raise rightfully and faithfully two boys, soon to be men. It's overwhelming because it's so much to encompass, I could become frozen by this challenge. Instead, I embrace it. I look forward to the next day with our rainbow water boys because they make me grow. They make me better. They make me the world.