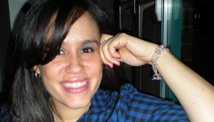 Editor's note: Erica Y. Lopez is a freelance contributor for several publications, including Fox News Latino, ABC News and the New York Daily News.

By Erica Y. Lopez, Special to CNN
Hoping to find a new job in the new year? Some people ready to make a fresh start in 2012 turn to traditional botánicas, emporiums with deep Latino religious roots to buy herbs, amulets and potions for improved health, new romance or an end to misfortune.
"Everything sells at this time of year, but some of the more popular items are the Three Kings and Jerusalem incense and the Money Draw and Seven Seas floor cleaners," says Jorge Vargas.
New York's Spanish Harlem remains home to some of the oldest botánicas in the Big Apple. Located in predominately Latino neighborhoods, botánicas draw followers of Santería (the Latin American religion combining African deities and Catholicism) or the healing tradition of Curanderismo. They can also be a place for novice spiritualists to seek guidance and shed negative energy - a perfect match for New Year's resolutions.
Justo Botánica on East 104th Street, owned by Vargas, is a kaleidoscope of hues and aromas. Nearly every space is covered with photos, statues and figurines. Though the store has regular customers, even some of non-Latino newcomers in the area show an interest in what botánicas have to offer.
Promises of money, love and success are just a faithful prayer and ritual away at a botánica. These small shops will give you all the tools needed for a "limpieza" (a spiritual cleansing of all negative energies for either your home or body) and will help you start off the year right.
It is no surprise then that in the final days of the year, the popularity of such traditional rituals help these small businesses with their bottom line.
While the incense is used to eliminate evil spirits in a home and sometimes burned at midnight on New Year's Eve, the floor cleaners are used well before midnight in preparation to draw in good luck or money.
A popular cleanser is Bomba, used specifically for eliminating negative energy from your home. It is used to mop the floors starting at the back of the room moving toward the exit directing all negativity out the door.
"Other top sellers are the cleansing baths, fresh herbs and of course the candles - many use green, yellow and red," Vargas said.
Green candles promote wealth. White symbolizes clarity. Yellow encourages happiness. Red is all about love.
"Now you carve his name on the bottom (of the candle), and yours on top. It is important for him to see you when it is lit" said Vargas, as he counseled a woman on how to use the red candle she purchased in an effort to win back her ex-boyfriend.
At the Justo Botánica, the constant ringing of the miniature bells attached to the door confirms that business booms in botánicas annually as the year draws to a close.
While many of these traditions date back generations and are indigenous to the mosaic that is Latin America, the age range and accents of those practicing may vary. The varied connection between the customers and the merchandise is personal and purposeful. In many ways, it reinforces the Latino cultural identity here in the United States.
There is even a candle to help you find, and keep, work in 2012. Simply light a green candle belonging to San Pancracio, the saint for hardworking people, and place a cup of water in front of it. Next place a piece of paper with the name of the job you desire under the candle. Then pray to God first every day and then to San Pancracio.
From there, according to Vargas, it is just a matter of faith.