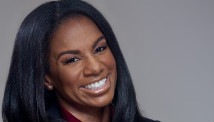 Editor's note: Kris Marsh is on the faculty at the University of Maryland, College Park. She received her Ph.D. from the University of Southern California and was a postdoctoral scholar at the Carolina Population Center at the University of North Carolina, Chapel Hill. She is on Facebook  and on Twitter @drkrismarsh.
By Kris Marsh, Special to CNN
(CNN) - While sharing coffee one day with a colleague and friend, William "Sandy" Darity Jr., we coined a new, emerging group of single and living-alone (SALA) households in the black middle class: the "Love Jones Cohort." Personal experiences as a member of the Love Jones Cohort help shape, inform and drive my research on this emerging group within the black middle class.
Historically, the quintessential black middle class consisted of a married couple with 2.5 children, a dog, and "Black Picket Fences" - in reference to the book written on the black middle class by Mary Pattillo-McCoy.
Where is the black middle class now, you ask? We are right here, but look demographically different than we did years ago.
My research clearly shows a compositional shift in the black middle class, away from married couples to single and living-alone households. Dovetailing with my research, we need to shift the way we talk and think about single, black professionals – both men and women, although women dominate the category.