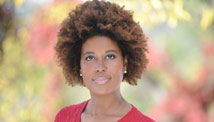 Editor's Note: Jacquette M. Timmons is the author of "Financial Intimacy: How to Create a Healthy Relationship with Your Money and Your Mate." She is the founder and CEO of Sterling Investment Management, an investment education and financial coaching firm. She has an MBA in finance and lives in Brooklyn, New York.
By Jacquette M. Timmons, Special to CNN
(CNN) - At this time of the year, when everyone is talking and thinking about new beginnings, I'd like to suggest to those of you working to build intimate relationships that you talk with your mate about money and financials – often and honestly.
While it is true that the intersection of love and money has been around since time immemorial, I'd argue that the specifics of what we talk about vary greatly from decade to decade. Just think of how these factors are playing out in the 21st century relative to the 1960's or 1940's – especially for women.
Today more women graduate college than do men at a ratio of 3:2; 51% of women now work in high-paying management and professional positions; and, the number of women earning more than $250,000 a year continues to rise, even in the lagging economy.
Economists and bankers may not view the financial crisis of 2011 as a sequel to the one of 2008. After all the origins of the crises are different, as are those who are/were affected by them and the solutions needed to restore a stalled but mending economy. But college educated Joe and Jane bought a home within their means, practiced fiscal discipline, saved and invested, yet still find themselves with a one income household after 18 months of an active job search. They are now on the precipice of foreclosure – in spite of doing everything "right."
When you think of the current financial crisis, what probably comes to mind are terms that describe what usually fuel economic crises and illustrate its after-math; love and financial intimacy are probably the furthest words from your mind. Perhaps it's time we change that. Money impacts the relationship landscape and vice versa.
Nancy and Robert have been married for five years. They are highly-educated, have successful careers, and earn a combined income of close to one million dollars. They could save a little more than they do, but their financial challenges have little to do with dollars and cents. Instead, they bump heads due to their differing values with regards to how money should be spent and on what. Their different family experiences and relationships with money surface in how they negotiate joint financial decisions and react to each other's individual choices.
Sue recently called off her engagement because of money. She decided that the income disparity between she and her intended was just something she really couldn't handle. She out-earned him and didn't like the prospect of being the major earner in their household.
Jerry worked as an executive director of a now-defunct non-profit organization which lost the majority of its funding soon after the 2008 economic crisis and eventually had to shut down, closing off his only source of income. His unemployment benefits have run out; he's used all of his savings and depleted his 401(k); he is broke and foreclosure is imminent.
In reality, these snippets from Nancy, Robert, Sue and Jerry's lives are not too dissimilar from yours or mine if you focus on the universal aspects of their stories. By doing so, you'll see what makes financial intimacy so relevant and important: feelings, behavior, history, choices, relationships (with others and yourself), knowledge, habits, priorities, goals, fears, expectations, and beliefs, to name a few.
The truth is we encounter the aspects of financial intimacy everyday. Love and money, and conversations about them, are combinations that trip us up largely because we don't have models for how to manage this concatenation well.
Money impacts our self-worth and our intimate relations. It is an unlikely communication tool that allows us as individuals, couples, families and a society to explore the deeper mysteries of human behavior and relationships. With such a mission, it might surprise you to discover that in my financial coaching practice I purposely don't provide a singular definition for financial intimacy. I don't because, ultimately, it will look and feel different for each person and couple.  But here's what you need to know to embrace the concept of financial intimacy and intentionally practice it daily:
Begin with yourself
Before you can truly experience financial intimacy with another, you must first cultivate it with yourself. Spending time getting to know and understand your money story (family history, inherited habits, cultural influences, etc.) not only increases your financial self-awareness, but it will help you initiate conversations with others – especially your mate – without (or with less) judgment.
Today, couples are being forced to talk about money more meaningfully. Financial challenges brought about by the recession has necessitated the adjustment from simply discussing money as a transaction, e.g., "honey, we need to replace the muffler; let's renovate the kitchen", to talking about our values, family history, fears, past experiences, future hopes, etc. around and with money. Somehow, "good" times seem to mask the need for these conversations.
Embrace the vulnerability
Money is very personal and private, and reveals a lot about character, discipline and philosophy. Therefore, real conversations regarding money exposes your "stuff" and can heighten any shame or discomfort you may feel. Get over it! Intimacy, of any type, requires being vulnerable, which requires trust. If you're unwilling to be vulnerable, that's a sign you should pay attention to. After all, money uncovers both the weaknesses and strengths of your relationships.
Focus on emotions and information
When you think about the last time you had a fight with someone about money, do you think you were really fighting about money? Actually, you were unwittingly navigating emotions and negotiating information. Realizing this subtle, yet significant, difference will help you and your mate, or someone else, identify what is really going on and how to address it – both the financial and non-financial aspect of the matter at hand. Arguments may appear to be ignited by one cause, but rarely is that the case; it is usually a confluence of factors that come together, reach a boiling point and erupt. A loss job, opposing goals and objectives, failing business or investment gone bad may precipitate the fights, but rarely are the fights just about money. If you mistakenly focus just on what you perceive to be the "cause," you will most likely miss out on the chance to address the root of the matter and get to the heart of the real reason for the discontent.
The Institute for Women's Policy Research reported that, "women are not getting their fair share of jobs in the latest economic recovery." The Intuit 2020 Report says the sheconomy (a phrase used to describe women becoming a dominant economic force) is one of the 20 trends that will shape the next decade. Therefore, women will play an increasingly important role in years to come in helping the economy recover the next time we experience a recession (notice I didn't say "if").
One of the many side-effects of any recession or recovery is our heightened awareness about the intersection of love and money. The economy goes up and down; love ebbs and flows; sometimes you're flush with money and other times not so much. But what is constant is that love and money, alone and together drive many of the choices you and I make and the need for financial intimacy is ever-present.
So how do you find financial intimacy in 2012? The three suggestions above will start you down the road less traveled, a path we should all take.
The opinions expressed in this commentary are solely those of Jacquette M. Timmons. The names of couples used are fictional.