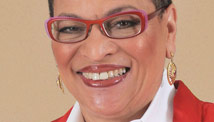 Editor's note: Julianne Malveaux is president of Bennett College in Greensboro, North Carolina.

By Julianne Malveaux, Special to CNN
The unemployment rate is trending down, the Friday morning headline reads. In November the rate was 8.7%; by December it had dropped to 8.5%. Nonfarm payroll employment rose by about 200,000 jobs, and the number of unemployed people dropped to 13.1 million from 14 million a year ago. In a year, non-farm employment rose by 1.6 million. If people are looking for signs of economic progress, the most recent Employment Situation offers some optimism. But a careful review of the unemployment situation offers as much cause for concern as for optimism.
Too many indicators were described as "showing little change," which often meant that the situation had worsened. For example, the African-American unemployment rate rose from 15.5% to 15.8%, the third increase in as many months. Earnings are up by just 2.1%, and gains in health care and manufacturing employment were eclipsed by an annual loss of 280,000 government jobs, excluding educational jobs, which have also been cut. The average unemployed person has been out of work for 40.8 weeks, up six weeks from a year ago. More than 5.5 million workers, 42% of the labor force, have not worked for half a year. Though the downward trend in the unemployment rate bodes well for many workers, it does not benefit millions of others.
For African-Americans and Latinos in particular, this latest report quantifies what many of them already know: Minorities remain the hardest hit in down economies, and even when the forecast brightens slightly, it may not mean an improvement for them. African-Americans and Latinos historically have the highest unemployment rates for a host of reasons, many of them structural. It's partially because discrimination in hiring puts them at a disadvantage from the beginning, but it's also because blacks and Latinos typically have a more shallow network of professional contacts to lean on and are often the "last hired, first fired."
The unemployment rate is only the tip of the iceberg. The issue is not so much the income that workers earn, but the wealth that shields them from fluctuations in the unemployment rate. And when we look at that wealth (that which we "keep" as opposed to that which we "cop"), it is dismaying to learn that the rich have been getting richer, and the poor poorer, for the past decade. The Occupy Wall Street movement is right on time when they ask us to look at the 99%, because the 1%, thanks to tax code machinations and an indifferent congress, are doing just fine, and trying to do even better.
In the United States, in 2009, the top 1% of the population owned 69.8% of our nation's wealth. Only Switzerland has a greater concentration of wealth at the top, at 71.3%. Wealth allows folk access to power; it allows people to buy things from universities to elections. Through elections, it allows them to make rules that clearly advantage the best off and disadvantage the average worker. Why else would Congress balk at passing an extension of unemployment insurance with 13 million Americans officially without employment? There can be no level playing field in politics, in free speech, in regulations, in the realm of economic justice, with such an imbalance. An unequal situation has, over the years, not only replicated itself but also worsened. No wonder Republican Congressional representatives have railed against President Obama's appointment of Richard Corday to head the Consumer Financial Protection Bureau. Despite the shame of foreclosures and the millions of Americans with "underwater" mortgages, too many members of Congress wanted to curtail the powers of the protection bureau. Kudos to President Obama for standing firm to address the concerns of middle-class Americans, now a near-endangered species.
And if the general middle class is endangered, in African-American and Latino communities the pain is even worse. Both of these communities shouldered a disproportionate burden of the foreclosure crisis, with too many of them saddled with subprime mortgages. And while our nation has witnessed unemployment rates dropping, the number of Latinos who are out of the labor force is 300,000 higher than it was just a year ago. African-American women, 23% of whom work in the public sector, actually lost more than 200,000 jobs, while African-American men and others gained jobs. While the wealthy are peddling influence, others are struggling to make ends meet. We saw it in the spending behavior over the holiday season. Upscale stores like Saks Fifth Avenue and Neiman Marcus saw sales rise, while stores that target customers with more modest incomes saw their sales flat. The post-Thanksgiving holiday rout could not be sustained by the jobless.
Perhaps Congress doesn't "get" the middle class because a shrinking number of our legislators belong to that group. Between 1984 and 2009, the median net worth of a member of Congress grew by a factor of more than two and a half, excluding home equity, from $280,000 to $725,000. During the same time period, the median wealth of an American family dropped slightly. No wonder our Congress is more interested in preserving tax cuts than in creating jobs. They are operating in their own self-interest and hoping that even with growing poverty and persistent joblessness, we are drinking their Kool-Aid. Indeed, the Tea Party rhetoric about shrinking the size of government flies in the face of the average American's economic interests. The rhetoric continues, and the wealth gap grows. The Congressional Progressive Caucus has been one of few voices looking at these gaps. Led by Congressmen Keith Ellison, a Minnesota Democrat, and Raul Grijalva, an Arizona Democrat, they have focused on job creation, not wealth concentration.
What does the wealth gap say about our nation? It suggests no chance of a level playing field. It suggests that the rich will continue to get richer, and the poor will continue to subsidize them, even among shrinking opportunities. It suggests that movements like Occupy Wall Street have a strong economic basis, but will not be effective unless they upset the apple cart by doing something more substantive than standing on the street. Some will say that reforming the tax code will make some difference, and it should. But there are fundamental inequalities that can only be addressed by increased access to education, job creation, and programs that promote wealth generation at the bottom. Can our legislators pull that off? Not as long as they see such changes opposing their own upper class interests.
The opinions expressed in this commentary are solely those of Julianne Malveaux.