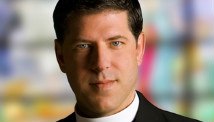 Editor's note: Albert Cutié is an Episcopal priest and former Roman Catholic priest known as Padre Alberto or "Father Oprah." He is the author of the memoir, "Dilemma: A Priest's Struggle with Faith and Love" and hosted the talk show "Father Albert." He's on Twitter @padrealberto.
By Fr. Albert Cutié, Special to CNN
(CNN) - I remember one of the stories shared about an old, revered Cuban pastor in the most popular Roman Catholic parish in Little Havana, near downtown Miami. He was often recognized as an outstanding local hero in the first stop for thousands of Cuban refugees, an area that is now home to thousands of Central American immigrants who also seek a better life in the United States.
One afternoon in the old dark church, 100 or so 7- to 12-year olds from the religious instruction classes known as "catecismo" were preparing to make their Lenten confession. The priest went through a list of the commandments and asked the children to think of any sins they may have committed so they could mention them once they sat face to face with a priest.
He spoke on each commandment for about 10 to 15 minutes. When he got to "You shall not commit adultery," he simply stated, "No hagan cositas feas" - don't do ugly or dirty things. That was it. The explanation or reflection that had to do with sex lasted less than 15 seconds.
But let's not blame the old monsignor for his curt approach. When it comes to sex, many Latinos still consider it a taboo subject, especially when there's a religious component involved. We have the spiciest media, telenovelas, magazines and are perceived as less "prude" than our Anglo counterparts. But when it comes to religion and sexuality, we prefer not to connect the two - and never let them touch. We simply do not feel comfortable talking or dealing openly with sex and religion.
Recently, a prominent Latino auxiliary bishop of Los Angeles, Gabino Zavala, was forced to resign as a result of the discovery that he had fathered two children, now teenagers, while he was a priest and bishop. Of course, this was the result of a romantic relationship, sexual and hidden, with the mother of his offspring. We are in the 21 st century and we still hear reactions like "scandal" and "betrayal," and some talk of "breaking vows."
These perceptions are rarely based on reality and have little compassion for what a human being in that situation must have gone through all those years.Those who have no clue of the dilemma are quick to say, "But why didn't he just leave?" as if it was so simple.
I see some of the same language that I saw from supposedly "devout" people when, in 2009, it became public that I, too, had a hidden relationship with the woman who is now my lovely wife. We are a truly judgmental bunch!
I had the pleasure of meeting Zavala on several occasions since the 1990s, while he was priest and bishop. I know he is a good shepherd and a dedicated servant of the Gospel. I have also met many – maybe even hundreds – of priests, who have been in similar situations, some still serving in the Roman Catholic Church and others who have moved on, like myself. All of these men share the same vocation, love of God and dedication. Yet, not all of them were able to live up to the ideal of life-long celibacy. Does that make them all traitors or bad men?
What is particularly difficult to understand is that while most Latinos say they don't agree with mandatory celibacy, many in our culture seem to have spiritualized this church law and almost made it a dogma. Why should Zavala be judged any differently than the rest of us? Are we not all sexual beings with the same capacity to love and be loved? Why can't a man of God, be also a family man? This bishop obviously was also a biological "father" for years, even if we did not know it. Yet everything points to the fact that he was in a monogamous long-term relationship with the mother of his children – who also happened to be a consenting adult. Even the bible says that the bishop should be "the husband of one wife" - see 1 Timothy 3:2.
Cutié: Preaching the Latino gospel in the United States
The cries of "betrayal" and "scandal" in our community also make me wonder why we don't hear these conservative-minded Latinos speak with such "outrage" when the sexual abuse of minors and other criminal or promiscuous sexual behaviors are discovered and covered-up among clergy. Unfortunately, just as in church, the same thing happens in countless of Latino homes when children are sexually abused by a member or friend of the family; silence and shifting of blame, mostly on the victim, are usually the norm.
It's like the big white elephant sitting in the middle of the room, yet nobody wants to see it.
The timing seems almost providential. All of this is happening while hundreds of married Anglican (Episcopal) priests are being welcomed by the pope to become Roman Catholic priests - with their wives and children. They will be permitted to be married priests openly, with freedom, and the blessing of the church. Yet, very few tell the flipside of that story, of the hundreds of us who were Roman Catholic priests - many of us Latinos - who are now serving as Episcopal priests and in other religious communities with our wives and families.
Stories like Zavala's should make all of us, even in our traditional Latino community, reconsider whether the imposition of celibacy for all priests and bishops called to serve God is truly a necessity. Maybe having married clergy will help us all move on from a culture of sexual taboos and help us all deal with sexual issues with greater openness and transparency.
The opinions expressed in this commentary are solely those of Albert Cutié.