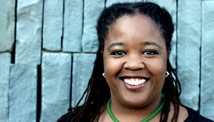 Editor's note:  Farai Chideya is a journalist and the author of four nonfiction and fiction books, and she blogs at Farai.com. She is a spring 2012 fellow at the Institute of Politics at Harvard's Kennedy School of Government.
By Farai Chideya, Special to CNN

(CNN) - How would you feel living in a museum?
It's a thought that popped into my head the night I dined with a civic group at the White House, after which, to our delight and surprise, the president took us on a tour of the family's private quarters. The first lady wasn't present. She was strong-willed; criticized by the press for inserting herself in policy decisions. After I'd walked up the stairs and had a few historical curios pointed out to me, I realized that the rooms were grand, but the space was far less private than the single family homes many parents and children live in. As I imagined what it must be like to live there, my reaction was less "how cool," more "how weird."
Those were the Clinton years, not the Obama years. But now, a new book called "The Obamas" is resurfacing the themes of a family's private life squeezed into a public space - and a strong woman taken to task for stepping out of her perceived role. The White House has reacted to the book by New York Times' correspondent Jodi Kantor in a way that's somewhere between meticulous fact-checking and obsession. First, White House spokesman Eric Schultz said Kantor hadn't spoken to the Obamas since 2009 and that the book wove the couple's inner-life out of "the author's own thoughts." Then, the first lady herself gave a rare interview, speaking to her friend Gayle King at CBS.
The first lady acknowledged she hasn't and won't read the book, but said based on descriptions of the work it conveyed "....an image that people have tried to paint of me since Barack announced [his run for the presidency], that I'm some angry black woman."
Angry
Black
Woman
That specific stereotype is the third rail that Michelle Obama has had to leap over again and again, sometimes doing so as deftly as when she double-dutched on the South Lawn. Other times, there's no mistaking the hostility pointed her way, as when she was booed at a NASCAR rally. Google the phrase "angry black woman" and you will get 1.28 million results - the top ones about Michelle Obama. The stereotype dates back to antebellum days, winding its way historically past Sapphire on "Amos 'n' Andy" and up to Tyler Perry in drag.
Michelle Obama has been scrutinized as a new vision of what a first lady should look like - often quite literally. (Witness last year's controversy over Wisconsin's portly Republican congressman Jim Sensenbrenner criticizing the first lady for urging kids to exercise when she has, in his opinion, "a large posterior.")  But the issues the First Lady repeatedly faces racially are bigger than physical image. There was even the sense (described well in Kantor's book) that a black woman should not travel through Europe in designer clothes, although the means by which the Obamas gained their cultural and financial advantage was primarily through education; the sales of the president's book; and the hard legal work that Michelle Obama did to hold the family together during his early, peripatetic political career. The Obamas are, through dint of their hard work, living the American Dream. And while a white couple might be valorized for that, they seem to be penalized.
The perceived strength of the first lady has caused controversy during many administrations, as seen with the influence of Eleanor Roosevelt and even further back, Abigail Smith Adams, whose detractors called her "Mrs. President." In her new book, Kantor asserts that Michelle Obama told an aide, "I don't want to be Hillary Clinton."  "The Obamas" also lavishes great detail on apparent tensions between the first lady's team and the president's, including a moment when former spokesperson Robert Gibbs, sparring with advisor Valerie Jarrett over a leak, unleashed a barrage of profanity and said of the first lady "Then f*** her too!" (That seems to be verified by an abashed Gibbs.) And the book notes that in a city where information is everything, the first lady has the ultimate backchannel.
"Following long presidential habit," Kantor writes, President Obama "sometimes told her about top-secret matters: after the fact, when the information became public, she would sometimes admit to aides what she had known beforehand."
Strong first ladies have had one set of challenges. The first African-American first lady of the United States faces another: the difference between being "strong" and being "angry." It's not clear that Jodi Kantor sets out to make Michelle Obama seem angry as much as a Black Tiger Mother, intent on protecting cubs Malia and Sasha. (In fact, much of the book is devoted to how the Obamas work to parent their children with an eye to both their safety and growing autonomy, and how the fame of politics makes that difficult.) But is being angry always wrong?
In the television interview with Gayle King, the first lady says of the scrutiny of her household: "I guess it's more interesting to imagine this conflicted situation here and a strong woman ..." The last part of that statement really piqued my interest. Yes, "The Obamas" includes speculation and re-creation, perhaps even a tainted imagination of what the first family's life is like. But I worry that in coming out so hard against the book, Michelle Obama is, unwittingly, telling us that her strength is imagined.
Strength is not anger, but anger can be a catalyst for feats of strength. When I think of an a truly angry black woman, I think of Fannie Lou Hamer. A sharecropper, she was sterilized against her will during an unrelated operation. Her "Mississippi appendectomy" was one of the injustices that led her to join the civil rights movement and send a freedom delegation to the 1964 Democratic Convention. Was she angry? Hell, yeah. Was her cause just? Absolutely. She turned the stereotype of the angry black woman on its head.
Michelle Obama grew up in a working-class black family; saw her first roommate at Princeton move out because the student's parents didn't want their daughter sharing space with a black woman; became a lawyer; ran Public Allies Chicago; and of course, married the man who would be President and had two beautiful daughters with him. It's worth reciting her history just to make it clear how strong she must be. If that fact makes some people angry... well, too bad for them. But if the first lady feels she has to hide her strength to survive Beltway politics, then, too bad for our culture, and too bad for us all.
The opinions expressed in this commentary are solely those of Farai Chideya.