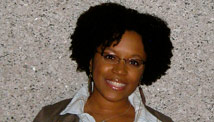 Editor's note: R. Ashley Jackson is an LGBT community advocate with the Southern Poverty Law Center.  She is the former coordinator of the Mississippi Safe Schools Coalition, an organization that advocates on behalf of lesbian, gay, bi-sexual and transgender students in Mississippi.  "Pariah," a feature length film by director Dee Rees, opens in more cities January 13.
By R. Ashley Jackson, Special to CNN
For months I've been hearing the buzz surrounding "Pariah," the film directed by Spike Lee's protégé Dee Rees, about a teen-aged, black lesbian learning to love and accept herself in a home where her sexuality makes her an outcast. I have been especially excited to see the movie because like Alike, played by Adepero Oduye, the 17-year-old protagonist in the story, I am a young, black woman who has struggled with acceptance and rejection in my life.
As I watched "Pariah," I laughed and cried right along with Alike.  I felt her pain and loneliness as her mother, played by Kim Wayans, ignored her feelings and her thoughts and tried to do things like choose the young woman's friends and clothing.  They were desperate attempts to steer Alike from a "gay lifestyle."
In the film Alike's rejecting experiences - from her family and from her community - help to make her stronger, and shape her vision for her future.  That is exactly what happened to me.
The night of December 24, 2005 changed my life forever. It was my 22nd birthday. The evening began with dinner and dancing with 15 close friends.  I was the life of the party, full of jokes and laughter.  You would think I was having the time of my life, but actually I was feeling quite alone, lost and sad.  It's because I was living a lie.  I was secretly in a relationship with a woman for the first time in my life and I didn't think I could tell anyone – not any of my 15 friends in attendance and especially not my mother, a non-denominational minister.  I knew she didn't approve of homosexuality.
Before I'd entered that inaugural relationship I had started drinking, mostly entire bottles of cheap wine and more than a few shots of whatever was offered to wash it down. It was all about trying to suppress the feelings I had for women.  The alcohol  made it easier to date men and pretend to be happy.  But there weren't enough drinks to fill the emptiness I felt.
That night, after having an argument with my girlfriend, despite being too drunk to drive, I tried anyway.  Not wearing a seat belt and speeding up I-55 in Jackson, Mississippi, I passed out and fell into the passenger seat.  When my head hit the cloth, I realized what was happening, and said to myself,  "Ashley, get up, you are driving." At that moment I used my left hand for leverage to sit upright, yanking the car to the left across four lanes and smashing into a concrete barrier.  It was close to 4 a.m. I was alone, bloody and injured.  To this day, I don't know how long I was there or who found me.  Flashing in and out of consciousness, I remember thinking the ambulance engine sounded like a school bus.
The hours and days after are a blur of doctors, pain, shame, confusion and fear.  Instead of opening presents and blowing out candles, I was having surgery to correct the broken bones in my foot and ankle while trying to take in the fact that I may walk with a limp for the rest of my life.  I ended up with a concussion and short-term memory damage that prompted me to write down everything so I wouldn't forget conversations I'd had 10 minutes ago.  I had bruises, scars and stitches from head to toe. My face was blackened and full of stitches. Unable to care for or bathe myself meant I had to move out of my apartment and once again begin living with my mother.
The worst part of all of this is that I did it to myself.  Fear of rejection and not having anyone to talk to led me to destructive behavior.  I felt alone and isolated.  I didn't belong in the heterosexual world and didn't believe I belonged in the homosexual world either.  Going through the motions - acting as everyone around me expected - was the only way I  could keep myself going every day.
Lying in that hospital gave me time to think, time to let all of those suppressed feelings and emotions take over.  I remember thinking, "I am gay. I am a lesbian." A huge weight lifted off of me, and I cried. I let it all out.
In the months after, unable to get from room to room on my own, I spent my days  and nights on the Internet searching for a community.  I found it!  I was amazed to discover people in Jackson, Mississippi, who would accept me for me.  I found my friends, my "urban family," where I didn't have to hide and pretend.  And I was able to kick the alcohol I had been leaning on.
Soon after I found the reason I was given a second chance.
One year after my car accident, a friend came to me and asked if she could bring her 12-year-old nephew to my house.  He had confided in her that he was gay and afraid his father would disown him if he found out.  My friend wanted him to meet an out-of-the-closet gay person living openly in Mississippi.  When they arrived at my home, he was timid and very quiet.  After I coaxed him into helping me chop veggies for our falafel and pita dinner, he opened up.  We chatted away about his friends, music and movies.  We talked about his school and his family.  Seeing his face light up when he was given the opportunity to tell me about his life and dreams was one of the most amazing experiences I've had.
That very night, I sat on my on my sofa and decided I had to do something for the LGBT youth feeling alone and afraid.  I had to speak up for the ones who had no one to talk to, no one allowing them to be themselves, the ones with no support system. These are the youth represented by Alike in the film, "Pariah." She's a smart young woman with good grades, a talented writer and big dreams.  She's like so many dreamers I meet, growing up in a world where they're told they're defective or not good enough.
I began my mission by attending community meetings.  It evolved to helping with a local LGBT support group. I eventually became a founding member of the Mississippi Safe Schools Coalition, an enormously successful LGBT youth-led organization in the state of Mississippi.  Even though we were discouraged and told that a group advocating on behalf of gay and transgender kids would never work in Mississippi, we stood strong and worked hard.
To me, Alike represents the young people I come in contact with everyday: the boy being abused by his father because he's not man enough, the boy being bullied so much by students and teachers he dropped out of school at 13, the girl who tried to take her own life because her mother wouldn't acknowledge her and forced her from home.
I was so happy to see at least one adult in Alike's life who she felt at ease around and who wasn't trying to change her. It was her English teacher Mrs. Alverado , played by Zabryna Guevara.  They didn't discuss dating or relationships.  It wasn't necessary.  When Alike walked into that classroom, her face lit up.  She wasn't guarded or sad.  She had a safe space and someone to listen to her.  That's so important. All young people coming out deserve this: a safe, accepting adult.
Many of the youth I've worked with don't have a safe space, especially not at home.  I know I can't give these young adults new homes but I can help them stay strong, become leaders and help each other.
Everyone should see "Pariah," especially parents and adults working with youth.  We have a duty to prepare, nurture and encourage them.  It is up to us to make sure they are well adjusted and ready to take charge of their future.  That will never happen if we are discouraging creativity and individualism.
I tried to run away from my feelings and ended up being stopped in my tracks, literally, by a 10-foot concrete barrier in the middle of a dark, empty Mississippi highway. I've been given a second chance to do something and that something will be to support, comfort, inspire, and energize the lives of as many of the Alike's of the world as I can.
The opinions expressed in this commentary are solely those of R. Ashley Jackson.