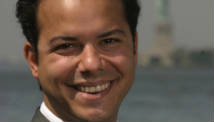 Editor's note: John Avlon is a CNN contributor and senior political columnist for Newsweek and The Daily Beast. He is co-editor of the new book "Deadline Artists: America's Greatest Newspaper Columns."
By John Avlon, CNN Contributor
(CNN) - We're in the thick of the South Carolina Republican Primary, and all the ugly old stereotypes are being deployed as shorthand for one very beautiful state.
You know, the characterization of South Carolina as a swamp of sleazy politics and brutal attack ads, a Bible Belt bastion of rednecks and racism, a state defined by Bob Jones University.
Sometimes these stereotypes are floated in political conversation as evidence of how "real" the state is in determining the true feelings of the conservative base.
Yes, South Carolina is conservative - especially compared with Washington, Los Angeles and New York City. But it is complex and constantly evolving, containing one of the oldest cities in America and a growing population, especially along the coastline. My family moved there when I was 14, and we love the state - and especially the elegant, functional and lyrical city of Charleston - with the zeal of the converted. For my parents, it is home.