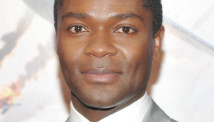 Editor's note: David Oyelowo plays Joe "Lightning" Little in the film "Red Tails." He was raised in England and Nigeria and trained at the London Academy of Music and Dramatic Art. He was the first black actor to play a Shakespearean monarch at the Royal Shakespeare Company, and appeared in "Rise of the Planet of the Apes" and "The Help."

By David Oyelowo, Special to CNN
(CNN) - My journey toward the hallowed ground of Moton Field, where the brave Tuskegee Airmen learned to fly, began with me receiving a script called "Red Tails" in the winter of 2008. I had never heard of the Tuskegee Airmen, nor was I aware of their adopted nickname "Red Tails," but the story as told in the script blew me away.
As I always do before auditioning for a role, I went about my research and was amazed and ashamed that I knew nothing of their immense contribution to the war effort in the 1940s. Thankfully I got the role and was then able to exercise my newfound obsession to do these men right by participating in telling their story.
We shot the film in Prague and Croatia in 2009 and did reshoots in 2010 and 2011 to really nail the complex dogfights depicted in the movie. The process of bringing the film to fruition was a mammoth collaborative process that involved a deep commitment from the actors, our director, Anthony Hemingway, the genius of the folks at Industrial Light and Magic, and the comforting overseeing eyes of both Rick McCallum, our producer, and George Lucas, who had been pregnant with the project for more than 20 years.
Cut to this past Monday, just a few days before this nerve-wracking Friday, the day on which the film will be released. I and my fellow actors Nate Parker, Terrence Howard and Elijah Kelley find ourselves at Tuskegee University as we draw to the close of an extensive press tour that has taken us from L.A. to New York and most places in between.
Tuskegee, Alabama, is a tiny southern town. The population is around 12,000 and apart from the University, there seems little else to report. Like all growth though, it starts with a seed and this tiny place is where the Tuskegee experiment, as it was called, grew into the Red Tails whose undeniable heroics helped lead to the desegregation of the military, which led to the desegregation of the South and on and on. This tiny place.
We arrived on campus to a reception worthy of the Beatles. It is rare for African-Americans to have heroes to cheer for and identify with on the big screen. Having been born and raised in the UK, the notion of a "historically black college" is alien to me, but it seems they are born out of necessity; a necessity that I personally hope will not outlast my lifetime. For now, it was incredible to walk amongst these students who should be and are so proud to be associated with the Red Tails. The campus throbbed with pride and excitement that a little slice of Hollywood had come to town. Singer Lionel Richie and radio host, Tom Joyner, both alumni of the university, were also on hand as yet another reminder of TU's legacy of excellence.
During this visit, I saw buildings, still standing, that Booker T. Washington had encouraged his students to erect out of bricks they made, nails they forged, and wood they cut over a hundred years ago and I saw facilities built with money George Washington Carver was generously able to donate thanks to the proceeds from his numerous discoveries and inventions.
It became clear to me that it was this same spirit of excellence that helped the Tuskegee Airmen achieve their exemplary World War II record in spite of limited resources and the odds stacked against them, and that same spirit of excellence is present on that campus till this day.
It just so happened that our visit coincided with Martin Luther King Jr. Day, so we attended a church service in which we were beautifully reminded of how things once were, how far America had come and how far is left to go.
My hopes for America were greatly boosted by being around these high achieving black students, who, like Dr. King and the, hopefully soon to be very famous, Tuskegee Airmen, did not let social inequities deter them from aspiring to be the best of the best.
Dr. Roscoe Brown, who was one of the original Tuskegee Airmen and a consultant on the film, expressed the hope that our film will remind young people that it is "cool to be smart."
The Red Tails caught that notion early in the 1940s; I hope young people everywhere today catch it too.
The opinions expressed in this commentary are solely those of David Oyelowo.