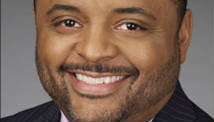 Editor's note: Roland S. Martin is a syndicated columnist and author of "The First: President Barack Obama's Road to the White House." He is a commentator for the TV One cable network and host/managing editor of its Sunday morning news show, "Washington Watch with Roland Martin."
By Roland Martin,CNN Contributor
(CNN) - Who knew that 70 years after African-American pilots had to work hard to overcome the prejudices of whites in the U.S. armed services, and the nation having its first black commander-in-chief, the men known as the Tuskegee Airmen would still be doing battle with an entrenched institution of white power brokers, all based on the color of their skin.
Many of you may have seen the flashy commercials advertising "Red Tails," the major motion picture that chronicles the amazing and true story of true American heroes: black pilots who went overseas in World War II to fight for the freedom and democracy that they could not enjoy at home.
The film opens January 20 in theaters nationwide, and for its producer, George Lucas, it has been a 23-year odyssey.
You would think that someone considered one of the most powerful players in Hollywood, a man who has made billions with blockbusters such as the "Indiana Jones" and "Star Wars" franchises, would have been able to get "Red Tails" approved without any hesitation. Yet many African-Americans have long known that in Tinseltown, the color of your skin - or that of the people in the story you want to tell - often falls victim to racial pigeonholing.