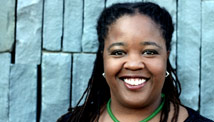 Editor's note: Farai Chideya is a journalist and the author of four nonfiction and fiction books, and she blogs at Farai.com. She is a spring 2012 fellow at the Institute of Politics at Harvard's Kennedy School of Government.

By Farai Chideya, Special to CNN
(CNN) - Just days ago, Mitt Romney seemed to be headed towards a win in the third contest of the primary season. Instead, he is still likely smarting from his double-digit loss in South Carolina, his 28% of the vote to former Speaker of the House Newt Gingrich's 40%.
The preceding week was filled with questions about the amount of Romney's wealth, how he got it and where it was stashed. Was Romney's tenure as CEO of Bain Capital about job creation? Or was it about "vulture capital," a zinger thrown by Rick Perry before he dropped out of the race? Was his money parked in offshore accounts in the Caribbean? The former Massachusetts governor's profound unease with the whole subject was clear when moderator John King asked at Thursday's CNN debate whether he'd release his taxes.
Now, perhaps in an attempt to prevent further damage in Florida and beyond, his camp has announced that he will release his 2010 tax returns on Tuesday.
Presidential elections always hinge on defining both the nation - that is, what kind of America we love - and the electorate. South Carolina turned into a battle royale on class and capitalism in the United States. Mitt Romney only won among the economic demographic in South Carolina that earned $200,000 or more per year. That's a lower income threshold than the now infamous "1%", to be sure, but politically unworkable given that the median household income in the state (often earned by more than one person) is less than $43,000 per year.
Gingrich hammered Romney on the question of Bain: "Bain Capital's model - which was to take over a company and dramatically leverage it, leave it with a great deal of debt - made it less likely to survive. I think the governor ought to explain - because it started because he cited his experience as a key part of his preparation for being president." In return, but belatedly, Romney called on Gingrich to reveal more about his lucrative consulting for Fannie Mae and Freddie Mac.
But aside from the spectacle of one millionaire attempting to eviscerate another millionaire, I was most struck by the way Gingrich framed his win: moving, as Romney had done earlier and perhaps prematurely, from "red meat" primary talk to "big tent" general election-style speak.
"We want to run not a Republican campaign, we want to run an American campaign," Gingrich said after his win, "because we are optimists about the future, because America has always been optimistic about the future." He added "If we unleash the American people, we can rebuild the America we love."
But during the CNN debate on Thursday night, much of the rhetoric seemed focused not on the future but on the past. In fact, the transcript shows the word "future" was never used during the debate, while "restore" got two mentions, and "return" (as in Romney's "We need to return to the principles upon which this country was founded") got eight. The question of how the candidates asserted their approach to party politics and conservatism tees up another underlying issue: race.
According to CNN's exit polls, only 1% of the primary voters were black, and another 1% "other." During his brief but eventful candidacy, Herman Cain said African-Americans were politically "brainwashed," automatically dismissive of conservatism. The Merriam-Webster definition of conservatism is a "disposition in politics to preserve what is established." If that is in fact what conservatism represents, then it's not hard to understand why black voters in large part reject it.
During the antebellum period, free blacks could vote in most parts of the South - but not in South Carolina. Only a small fraction of black citizens registered to vote, let alone participated in the political process, before the Voting Rights Act of 1965; and South Carolina also challenged the Act (and lost) in the 1966 Supreme Court case South Carolina v. Katzenbach. Of course, South Carolina's history is just one part of the larger tapestry of race in American politics.
There's nothing wrong with harkening back to the past, but we have to sift and sort what we want to keep from our past with what we want to preserve. So when Newt Gingrich earlier in the week reiterated his use of the term "food stamp president" for President Obama - and defended its racial neutrality - it undergirded the fact that both subtle and overt racial appeals have long been a tool in presidential primaries.
In the 2000 South Carolina primary, for example, some voters got calls that Senator John McCain had an illegitimate black child. (His brown-skinned daughter Bridget was adopted from Bangladesh.) And as we move on to Florida, voters will have to assess the inclusivity of Gingrich's definition of optimism and Romney's definition of capitalism. With the Latino vote front and center in the next big contest, we can expect to see a new set of presidential race pyrotechnics - and perhaps another round of race-and-class clashes as well.
The opinions expressed in this commentary are solely those of Farai Chideya.