By Stephanie Siek, CNN
(CNN) - "Most folks my age and complexion don't speak much about the past," says the grandmotherly African-American woman who narrates "Heart and Soul: The Story of America and African Americans," a book illustrated and written by Kadir Nelson.
The American Library Association announced Monday that "Heart and Soul" won the Coretta Scott King Book Award in the author category, and as an honor winner in the illustrator category. Last week, it was announced the book is a nominee for an NAACP Image Award for children's literature.
"Many of us are getting up in age and feel it's time to make some things known before they are gone for good. So it's important that you pay attention, honey, because I'm only going to tell you this story but once," the unnamed narrator says.
The narrator's words are accompanied by Nelson's sculptural, intensely colorful illustrations, which interweave images of American history with those of her family's struggles and triumphs in a country that only recently acknowledged their full potential as human beings.
Nelson's book was selected among more than 100 entries for the award, which aims to promote children's books, authors and illustrators that portray some aspect of the African-American experience. Jonda McNair, who chaired the award selection committee, said they were impressed by Nelson's marriage of the text to the illustrations.
This isn't the first time Nelson has been honored by the committee – in 2004, he was honored for illustrations in "Thunder Rose," by Jerdine Nolen. He went on to win the illustrator award in 2005 for "Ellington Was Not a Street," by Ntozake Shange, and in 2007 for "Moses: When Harriet Tubman Led Her People to Freedom," written by Carole Boston Weatherford. And in 2009, Nelson earned both the author's award and illustrator's honor for "We Are the Ship: The Story of Negro League Baseball."
"He always seems to outdo himself," said McNair, an associate professor of literacy education at Clemson University. "When he came out with 'We are the Ship' I didn't think it would be possible for him to follow up with something so soon, and with something so thorough and so good, but he did."
Nelson, 37, grew up in New Jersey and San Diego and now lives in Los Angeles. He started drawing at age 3. In addition to his book illustrations, his work has been commissioned by a range of companies and individuals, from Coca Cola to Michael Jackson  - Nelson's panoramic portrait of Jackson's career was used for the cover of Jackson's posthumous album, "Michael."
CNN: First off, congratulations on winning the Coretta Scott King Book Award!
Kadir Nelson:  It's always great to be recognized, especially by librarians, so it's wonderful. Every award is a surprise, you hope you'll be recognized, but it's not something you take for granted.
CNN: Tell me a bit about how you got started as an author and illustrator.
Nelson: I've been illustrating books since '99. My first published book (as a writer) was in 2008, but that book took about seven years, so (work began) the year 2000, I believe.  I was doing freelance artwork – album covers, editorial work, advertising work. I did a painting that ended up in a juried show, where an author took notice of it and asked if I wanted to illustrate a book. I had also worked with Debbie Allen on a film called "Amistad," and through working with her, she asked me if I would be interested in illustrating a book for her that had been a play.
CNN: Do you consider yourself mainly an illustrator or mainly an artist? Or both?
Nelson: I guess I'm a combination of both. I like the term artist, or painter.  Mostly I work with oil paint.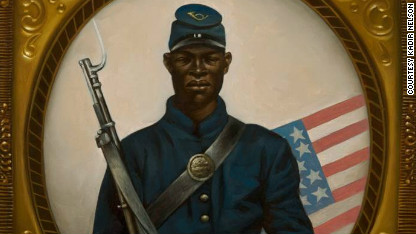 CNN: Which artists have particularly influenced your style of illustration?
Nelson: There are hundreds of artists, but my style has been heavily influenced by Norman Rockwell, N.C. Wyeth, Ernie Barnes, Dean Cornwell, Charles White. I like the style, I like their technique, the emotion that comes through their work, the light and shadow, the drama, the use of color and storytelling.
CNN: A lot of your work deals with African-American history and themes. What about it inspires you?
Nelson: I think what's always most important to me is the story behind the images, and in African-American history, the human drama is often very dramatic.  African-American history is full of drama and really interesting stories and paradoxes that I'm really drawn to. And being African-American myself, having grown up learning this history, I really enjoy telling it in my own way.
CNN: The book for which you won the award, "Heart and Soul: The Story of America and African Americans," is narrated by an older African-American woman. Is that character based on anyone you know?
Nelson: That voice is a combination of my maternal grandmother and Debbie Allen.  My grandmother is kind of a no-nonsense, give-it-to-you-straight kind of storyteller. Debbie speaks with a lot of – I describe it as a Texas twang. She's very sweet and very warm, and adds a bit of Texas flavor to the way she speaks, often punctuated with "honey" or "chile." It helps sweeten up that very direct delivery. I interviewed them both, along with other members of my extended family and friends.
There weren't any direct stories that came from my grandmother, but there is a slave narrative that came from my family which is in the book, the story about the black-eye peas. In my family, the African-American tradition of having black-eye peas on New Year's Day was forbidden because the last slaves in my family remembered that the slave owner where they lived would cook up all the peas and serve them in a horse trough, and the slaves would have to eat out of it.  So that was a very poignant memory from my family.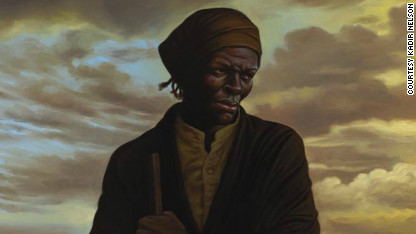 CNN: Those can be difficult memories to share. 
Nelson: I thought about the fact that in some of my interviews – and I heard the same in other African-American families – when the subject of slavery was brought up, the elders would be very tight-lipped about it, because it was a difficult part of history. That's why I opened the book that way, because it's a history you may want not want to share with a child because it was a shameful history.  With the election of an African-American president, I heard that many of those stories began to emerge.
CNN: Do you hope this might help older generations share their memories with younger generations?
Nelson: Well, it certainly is a talking point and a great way to introduce this part of history to young readers. I've heard that it has served as a bridge and a great read-aloud too – to serve that purpose of getting family talking not only about African-American history, but family history and how it interrelates to the larger American story. All our family have their own stories, and America is really one big family made up of millions of families, whose stories are intertwined in this great tapestry of history that is uniquely American.