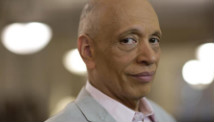 Editor's note: Walter Mosley is the author of more than 34 books, including the mystery series featuring Easy Rawlins and his latest featuring Leonid McGill. He has won an O. Henry Award, a Grammy and PEN America's Lifetime Achievement Award. His newest book is "All I Did Was Shoot My Man" (Riverhead Books).
By Walter Mosley, Special to CNN
(CNN) - Newt Gingrich is a political opportunist. His job is to pack as much powerfully charged meaning into every sentence as he can, which makes him a working poet.  So he knows full well that calling someone a "food stamp president" brings up the working person's fear, looming reality, and in some cases the actual experience, of unemployment - while making a shout-out to racism and affixing a stigma to poverty. All the while hiding behind the symbol of a flag.
It is the bane of America and Americans that too often, those who best grasp the language of hatred and fear are those who are most likely to lead. This is simply because tacticians like Gingrich are well-versed in the traditional battle-cry and have no fear of the outcome of political civil war. Why should they be afraid ? They will never be down in the streets suffering with the people.
Gingrich says his words were misinterpreted, that anybody who criticizes his characterization of President Obama is attacking the very fiber of American democracy. He sounds like a lawyer explaining away a crime by influencing the point of view of the jury with doubletalk. "It is not that my client isn't guilty but that you cannot prove that he is."
Woe be it to America when our lawyers become our poets.