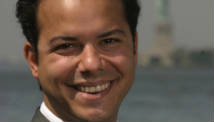 Editor's note: John Avlon is a CNN contributor and senior political columnist for Newsweek and The Daily Beast. He is co-editor of the new book "Deadline Artists: America's Greatest Newspaper Columns."
By John Avlon, CNN contributor
(CNN) - Florida is the traditional tie-breaking primary in the January gantlet - but there's very little that's traditional about the Sunshine State. It is a sprawling cross section of 10 media markets and one of the most diverse states in the nation, containing communities of voters across the political spectrum.
But we talk about politics in shorthand, and many stereotypes endure long after they are bypassed by reality. So here are three stubborn myths about the Sunshine State to think about as Floridians go the polls on Tuesday.
1) It's senior-citizen central: This stereotype started in the post-war boom, as legions of grandparents sought out the warmth of Florida to ease their aching bones. The state came to be seen as a land of early-bird specials, bad drivers and retirement communities punctuated by amusement parks - "God's waiting room." But in the 1980s, young families began to move into Florida en masse, following economic opportunity and now-ubiquitous air-conditioning.