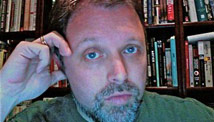 Editor's note: Tim Wise is the author of six books on race, including his most recent: Dear White America: Letter to a New Minority.  He tweets at @timjacobwise.
By Tim Wise, Special to CNN
(CNN) - Being asked to describe what "post-racial" means is a bit like being asked to describe a leprechaun, cold fusion or unicorns: we know what is meant, but, if we are willing to be honest, we also know that none of the four describe something real, something tangible, something true.
To me, "post-racial" is little more than a nonsense term devised by people (mostly white, frankly), who would simply rather not deal with the ever-present reality of racism and ongoing racial discrimination.
It is a diversion, intended to paper over the divisions that have long roiled our nation, and continue to do so today.

Though some sincerely believe this describes America's reality– especially since a man of color was elected president - the illogic of believing this signals the veritable death of racism should be apparent: after all, we certainly wouldn't claim that sexism and patriarchy had been smashed in Pakistan, India, Great Britain, Israel or the Philippines just because they all have elected women as heads of state.
Perceptions of discrimination a black and white story
To believe that the United States is post-racial requires an almost incomprehensible inability or unwillingness to stare truth in the face.
How can we be post-racial, after all, when the typical white family has 20 times the net worth of the typical black family, and 18 times that of the typical Latino family?
How can we be post-racial when studies find that even white men with criminal records are more likely to be called back for job interviews than black men without them, even when all other credentials and personal characteristics are indistinguishable?
How can we be post-racial when evidence suggests that the lightest-skinned immigrants earn roughly 17% more than the darkest-skinned immigrants, even when qualifications and levels of productivity are the same?
How can we be post-racial when Asian Americans, Latinos and blacks with college degrees are anywhere from one-third more likely to nearly twice as likely to be unemployed as their white counterparts? When schools serving mostly students of color are more than ten times as likely to be places of concentrated poverty, and far more likely to have the least experienced teachers?
How can we be post-racial when people of color continue to be so disproportionately targeted by our nation's drug laws?
Although whites use drugs just as often as blacks (and more often than Latinos), it is people of color who comprise nearly 90% of persons incarcerated for a drug possession offense.  And it is people of color who are disproportionately stopped and searched for drugs and other illegal contraband, even though they are no more likely (and sometimes less likely) to be in possession of such items than whites are.
How can we be post-racial, when presidential candidates are either too afraid to raise these issues publicly, for fear of voter backlash (as with the Democratic incumbent), or willing to shamelessly exploit racial anxieties and resentments (as with at least one of the primary Republican challengers) by calling President Obama the "food stamp" president, or suggesting that poor black kids have "no habits of work" and should be made to clean their own schools as janitors?
This, despite the fact that most people in poor communities do work, and black teenage unemployment rates (now well over 40 percent) reflect only those black teens who are searching for jobs, and thus, by definition already have a solid work ethic, lacking only the opportunities to put that ethic into practice.
Sadly, the claims of America's equanimity and post-raciality are not really new.
Even in the early 1960s, before the passage of civil rights legislation, at a time when we were still a formal apartheid state, polls found that a vast majority percent of whites already believed that blacks had just as good a chance to obtain a good job, housing or a good education as we or our children did.
In other words, white denial - one might say, delusion - on the matter of the nation's racial reality has been longstanding.
It's hard to say when or if we will actually arrive at that place called "post-racial", or, better yet, post-racism.
But until whites begin naming streets in our neighborhoods after Martin Luther King, and naming the schools that our children attend after him (rather than fearing that such a designation might signify that our kids attend a "ghetto school"), I know for certain we are not "post-racial" yet.
 The opinions expressed in this commentary are solely those of Tim Wise.