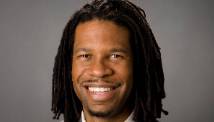 Editor's note: LZ Granderson, who writes a weekly column for CNN.com, was named journalist of the year by the National Lesbian and Gay Journalists Association and a 2011 Online Journalism Award finalist for commentary. He is a senior writer and columnist for ESPN the Magazine and ESPN.com and the 2009 winner of the Gay and Lesbian Alliance Against Defamation award for online journalism. Follow him on Twitter: @locs_n_laughs.
By LZ Granderson, CNN Contributor
(CNN) - My son had barely taken his first breath when the people in the hospital started telling me how lucky I was.
Not because he was healthy, mind you, but because he was a he.
"It's easier to raise boys," I was told.
And for a while I actually believed them.
Then I started paying attention.
Did you know boys are more likely to drop out of high school than girls? Or that there are more female college students than male? And did you know the imprisonment rate for men is roughly 15 times higher than the rate for women?
If this is what boys being easier to raise than girls looks like, could you imagine how many men would be in jail if raising girls got any harder? We worry so much about girls getting hurt - and justifiably so - but interestingly enough, the stats show it's our boys who are more likely to get robbed, attacked or even murdered. We see girls as fragile orchids and boys as plastic plants. But let's face it: At the core of this line of thinking isn't safety - it's sex.