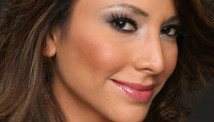 Editor's Note: Lili Gil is a businesswoman with expertise in marketing to Hispanics. She is co-founder and managing partner of XL Alliance, a business strategy and marketing firm dedicated to help business leaders and corporations navigate and enter emerging multicultural markets. Gil was recently selected to be a World Economic Young Global Leader. She is on Twitter @liligil.
By Lili Gil, Special to CNN
What comes to mind when you think of Latinos? Is it exotic beauties, great dancing, loud music, big families, illegals, all or some of the above? Is it poor, disadvantaged, short and brown?
The truth is 53% of all Hispanics in the U.S. self-identify as white, but unfortunately a world of media that over- emphasizes issues of immigration and drug trafficking have often tainted the true colors and stories of those who call themselves "Latinos."
I am a strategist and marketer who makes a living demystifying the world of Latinos for America's CEO's and decision makers. It is my life's quest to understand true Latino identity.
I then take my information, and try to make advertisers and business leaders understand who we really are, and why they should take the time to get to know us. As you can imagine, this quest of mine is incredibly complex.
There are numbers, facts and statistics that help answer my questions, and explain why the broader population should pay attention to Latinos: In the U.S. we are more than 50 million strong, accounting for more than half of the U.S. population growth between 2000 – 2010, and represent $1 trillion in buying power according to advertising researchers. That's not insignificant, but somehow it is not enough to break through the common stereotypes of the people I meet each day.  
This is why I have dedicated a 15-year career to drive the business case for multicultural inclusiveness and Latinos as an engine for growth. Ironically, it was my naïve experience as a young immigrant that triggered what has turned today into a professional mission.
As an 18-year-old foreign college student in a small private college in northern Texas, I was confused by off comments from my classmates: "You are not Mexican? But you speak Spanish!" When my answer was "I am Colombian," the conversation would take a downhill turn since that equated to dealing drugs followed by the assumption that I should be washing dishes at the school cafeteria. They were surprised when they learned I was an international "immigrant" student - with a student visa - whose parents were required to pay a full year of tuition in cash up front! That boggled their minds. They had trouble accepting I was a 'true Latino' - or 'Latino enough.'
Did I let the stereotype discourage me? No. In fact, it was the catalyst to educate, get involved and elevate the voice of who we are.
How about unveiling that tall, educated and even affluent Latinos do exist? After all, college enrollment has increased by 24% and the $100,000-plus household-income segment grew 221% to represent 17% of Hispanics in theUnited States. Also, approximately 62% of Latinos in America are U.S.born making them a large percentage of "citizens" who are diverse, bicultural and bilingual, and proud to call themselves Americans and Latinos, too.
In the midst of confusion, much strength has emerged binding together people from over 20-countries of origin and diverse races represented by one term: LATINOS. Today the term has evolved to carry the strength of a unified community; reclaiming its position, heritage and representation as students, workers, entrepreneurs, doctors, lawyers and valuable members of American society. Maybe the stories behind these numbers are not as exciting or not "Latino enough" to be told, but today we are getting a peek into their life experience in America.
A quick posting on Being Latino, one of the largest Facebook group for Latinos in the United States, resulted in a flood of responses from Latinos dealing with the issue. Over a dozen testimonials revealed that "not being Latino enough" is not just about not looking the part, but also about not behaving the part.
Graciela Tiscanero-Sato, a Being Latino fan responded to the issue of not being Latina enough as follows, "Oh yeah...look at my picture and you'll see that. 'You don't look Mexican' has been uttered in the U.S. Air Force where I flew as aircrew (not many Latinas in cockpits), while working in Silicon Valley for [a] German company, on and on... Then there's my sister, an actress, who gets told 'you don't look ethnic/Latina enough' when she tries out for Spanish-language commercials and such! I think on mainstream TV that if you don't help 'them' reinforce their stereotype, they don't want you."
For Harvard graduate Julio Ricardo Varela, his journey has not only cornered him in the "not so Latino" camp for his education but also in the classist camp among his own fellow Hispanics in theBronx.
"…there is this belief that "white" Latinos (what a silly label, since my family is a bit of everything: North African, Corsican, Italian, Spanish, Moorish), have it easier because they don't 'look' Latino. Growing up in Puerto Rico, where racism is subtle and generally class-based, and then in The Bronx, where people looked down at my background as being too elitist, I just know that everything I have earned in my life (Harvard, a successful professional career, a loving family and strong network of dear friends) has come through never sacrificing who I am or accommodating myself to others. In life, you must be true to yourself and answer to yourself. Without a core belief in yourself, you just follow the crowd and pay attention to labels. I pay attention to me and try to help others in any way I can."
Sharon Abramzon, a proud Colombian of Jewish decent has both benefited and struggled with looking "too white" for a Latina.
"I am lucky to be able to blend into different cultures, which helps in business and socially. It's also quite comical to surprise people when I break out in Español during a conversation. I am quite proud to be a Colombian Latina, and I think it is great to bring to light that the Latin culture is also a wonderful melting pot of races and religions. On the other hand, having to prove my 'Latinoness' is also part of that. (Naturally, after I speak in Spanish and tell people where I was born, I finally get the OK nod)."
On one side many deal with the label of being "too white," while others juggle being too dark for a Latino. This is the case of many afro-Latinos like Yaritza Croussett, an occupational therapist of Dominican decent who lives in the D.C. area.
"I was told BY LATINOS that I was too 'black' to be Latina... they also asked where did I learn to speak Mexican? Oh the joys of growing up in Texas," said Croussett who grew up as a minority within minorities after being the only "black girl" in a high schoolof Mexican-Americans in the Rio GrandeValley. Ironically all along, she shared proudly the same label "Latina" as her friends of Mexican descent.
Oh, the wonders of Latino heritage! Twenty years ago, young Hispanics fought to blend in and acculturate, while today many are retro acculturating and reclaiming their new found label: I AM LATINO… AND PROUD!
Clearly, in the midst of many differences, there is a unifying thread of values of faith, family, culture and language that makes them worth knowing. And as they grow in number, power and influence the world should get to know who they are – in all their hues, in all their pride and in all their value as people who love America and their heritage as much as you do. Will you give yourself a chance to rethink Latino? You will be surprised.
The opinions expressed are solely those of Lili Gil.