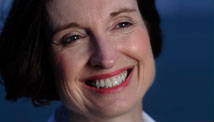 Editor's note: Laura Sessions Stepp is a Pulitzer Prize-winning journalist, formerly with The Washington Post, who specializes in the coverage of young people. She has written two books: "Unhooked: How Young Women Pursue Sex, Delay Love and Lose at Both" and "Our Last Best Shot: Guiding Our Children through Early Adolescence." She is a consultant to the National Campaign to Prevent Teen and Unplanned Pregnancy.
(CNN) - One of the truly remarkable, and relatively recent, boosts to the health of poor women in this country has been their opportunity to get preventive, reproductive health services, at little or no cost, in one place.
Over the years, one Planned Parenthood clinic after another has been able to offer these women not only affordable contraception, but full exams that include screening for breast cancer, the No. 1 cancer killer of women.
This week, a major financial supporter of breast cancer education and services, the Susan G. Komen for the Cure Foundation, announced it was ending its funding to Planned Parenthood. While Planned Parenthood believes Komen is caving in to pressure from anti-abortion groups, Komen said its decision was made because the foundation is not allowed to give money to any organization under government investigation.