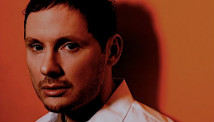 Editor's note:  Martin Kember is a singer, songwriter, and producer who began his career as a disc jockey and "Soul Train" dancer. He was a part of the vocal group AZ-1 that performed on Soul Train in 1993.
By Martin Kember, Special to CNN
The first time I danced in front of Don Cornelius for "Soul Train," I stood out.
I wore a ruffled shirt, purple lace headband slung over one eye, and tight button down pants. It was 1985, and I was the white kid with the nerve to dress like Prince as I stepped on the dance floor of the "hippest trip in America."
Being a dancer did not pay much: just two pieces of chicken and a biscuit at break time. Though my friends and I joked about it, the truth was that being and feeling like I was a part of the show and watching Don work was the real pay off.
My career in music was fueled by those days.
Growing up, I had a love affair with black music, idolizing Earth, Wind & Fire, The Isley Brothers and Donna Summer.
I was a 10-year-old white kid with a funny English accent, living in a predominantly white area of Ann Arbor, Michigan. My passion for music separated me from my peers, and I soon realized I was a little different.
"Soul Train" was a weekly highlight. On Saturday mornings, I could see my favorite artists perform. I committed to memory all the sponsors and commercials, including that the "Classy Curl" ad with model Ola Ray.
I stayed in my "shell," listening closely and emulating the singers.
By the early eighties, my family had moved to a suburb of Los Angeles.
My proud passion for black music further alienated me at school, as my classmates preferred heavy-metal. Late in high school, I became a disc jockey.
Once, on a gig, I recognized a group of regular dancers on the "Soul Train" floor. I could not resist leaving the DJ booth to join them in a dance. One of the dancers suggested: "Man, you gotta come down to the 'Train' with us."
For most Saturdays the next few years, I was there.
The first taping was surreal, a party with people trying to be seen, guys picking up on the ladies and ladies picking up men - until Don entered the set.
I tried not to stare though I was totally star-struck. I felt myself and others stand up a little straighter. The chatter subsided and we began to perform.
It dawned on me that Don was looking at us to perform and portray that magical aura of "Soul Train" that I had felt so many times as a fan.
Everyone was vying for his attention.
He had a seriousness about him, though he would not hesitate to share a joke. I was relieved when he commented on my clothes: "I like your outfit." I smiled, feeling a little less shy and even a little taller.
"Soul Train" helped me come out of my shell.
I soon moved beyond dee-jaying, and began writing, singing and recording my own music.
By 1989, I had formed a singing group, "AZ-1." Later, we were able was able to fulfill my ultimate dream and perform on the show I grew up watching.
Like it had done for so many, Soul Train helped launch my career.
Don Cornelius and "Soul Train" had an immeasurable impact and influence on my life: I found myself, my voice and my confidence through the power of peace, love and soul.
The opinions expressed in this commentary are solely those of Martin Kember.