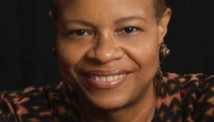 Editor's Note: Terrie M. Williams is the author of "Black Pain: It Just Looks Like We're Not Hurting" and the co-founder of The Stay Strong Foundation. You can follow her on Twitter @terriewilliams.
By Terrie M. Williams, Special to CNN
Trouble in mind, that's true.
I have almost lost my mind.
Life ain't worth livin.
Sometimes I feel like dyin'.
–"Trouble in Mind," a 1926 Blues standard by Richard M. Jones
We are all mourning the loss this week of "Soul Train" creator and cultural icon, Don Cornelius. An American success story, Don left us with a 35-year history lesson in business acumen, cultural exportation, and community uplift. We need only call the first names of the greats who performed on Soul Train's multi-colored stage since it premiered in 1970 - Stevie, Gladys, Tina, Aretha, Michael - while we pop locked along in front of the TV screen in our polyester silk with a hair full of Afro Sheen. Thanks to traditional and social media, we've been able to share and celebrate these memories from friend to friend, generation to generation, and across the world. It was, indeed, the "hippest trip in America."
That's all good. We should take some time to measure and celebrate Don's legacy. Don dreamed big. He changed our lives and, more importantly, changed overnight how the world saw us. We cannot say enough about this pioneer. The doors he opened. The life he lived. That's easy. What's not easy is to say, is how and why he died. Yes, he hid his demons well. But, clearly they were there because this 75-year-old icon with a body of work most of us will never achieve, chose to end his own life with a gunshot to the head.
"Private. Guarded. All business." These are reoccurring words that people close to Don - his son, his long-term business partners, former dancers and employees - have used to describe him. I experienced that myself on those few occasions when I had the pleasure of meeting and speaking with him in person. Though reports say he didn't seem despondent or upset in the weeks before his suicide, this silent warrior was clearly suffering. We don't know for sure if it was a long-standing disenchantment with the entertainment industry, residual pain from a brain surgery, a bitter divorce, or all of the above that led to his obviously depressed mental state. Said his son Tony yesterday on "CBS This Morning", "My father was extremely private. Unfortunately, when you're a private person, you keep things inside." And, that "people all over the world" is what this is all about. We did not have to lose Don this way. This silence – which kept us safe during slavery times – is now killing us. Depression is real. It is deadly. And, it does not discriminate.
Even in the age of Obama, it is still hella' hard to be a Black man in America. To be successful, you have to be twice as smart and work 10 times as hard. Our young men are trained to be tough, "suck it up", "be a man", "never let them see you sweat" and definitely, "don't let them see you cry." But, like all of us, these men are human, flawed, complicated, impacted by their unresolved wounds, scars and personal pain. Some passed onto them by parents, others by influence, incident or circumstance.
As a mental health practitioner and activist, and an individual who manages her own depression, I know first-hand that the effects of depression are real. Also, as a veteran public relations counselor in the entertainment industry, I can also tell you that people in this high-pressure business are more predisposed to clinical depression. It is a confounding disease that not only destabilizes the life of the individual who experiences it, but the lives of those they care about. Sadly, most in the African-American community don't even know what clinical depression is - what it looks like, sounds like or feels like.
According to the World Health Organizations, by the year 2020, depression will be the second leading cause of death behind heart disease for everyone. For African Americans, the stigma coupled with disparate access to mental health care and a lingering, troubled economy have led to increasing rates of depression in our community. A survey by the Mental Health America revealed that only one-third of all persons with major depression ever seek treatment with African-Americans and persons over 65 years old the least likely to seek professional help. Both were applicable to Don.
In today' society, success is more and more defined by external achievement - what you own, who you know, how much you make. We admire these select and gifted few who lift us up and pull the rest of us forward. Unfortunately, the successful are practiced at wearing the "mask" of wellness better than most. For them, the fall-out from the stigma of depression keeps them evermore silent. The rest of us in the beehive are less-practiced, but none-the-less suffering the same. We keep our head down, keep it moving, and hold on, all while suffering from untreated trauma, wounded psyches and troubled minds. This suffering is mostly never confronted nor talked about because we 'don't do that.' We self-medicate with the drug of our choice, go to church, or both. We lash out, act out, curse out, tune out or worse. And, the silence gives birth to depression, and the depression sometimes - as it seemingly did in Don's case - gives way to suicide.
Sadly, Don was silent until the end, though his son, Tony, said he did call – a whispered plea for help, perhaps. He did not leave a note. Some would call that control, discipline, pride. It is none of those. It was a violent and sad end for our beloved warrior. It was preventable and it was unnecessary. We need to let our men know – whether he is a mogul, a musician, or a math teacher - that it is OK for them, for all of us, to name and share our pain. We must re-define, what it means to be "strong." We must take care of our mental health…and get a "check-up from the neck up."
The best way to spot depression and prevent suicide among those you love - this includes you - is to identify risk factors and signs early on. They can include a persistent sadness, hopelessness, guilt, lack of interest in normal activities, trouble with memory, changes in sleeping and eating patterns and thoughts of death. Consider also visiting www.healthyminds.org by the American Psychiatric Association, which offers an on-line mental health check-up and other resources.
Don reportedly once said that, "It's always a pleasure to find something that matters." Perhaps in the end, he couldn't find that one more thing that did. Our childhood memories aside, the way he died does matter, and we should remember this, as well. My heartfelt love and prayers go out to Don's family and friends.
The opinions expressed are solely those of Terrie Williams.