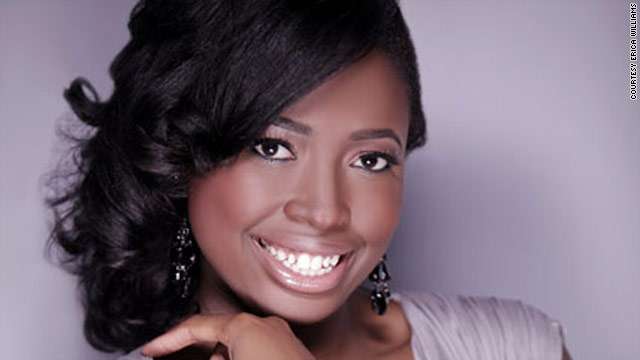 Editor's note: Erica Williams is a senior strategist at Citizen Engagement Lab, an incubator for projects that use digital media, technology and culture to engage communities in people-powered campaigns. Previously, she was co-founder of Progress 2050, a project of the Center for American Progress, that develops new ideas for an increasingly diverse America.
By Erica Williams, Special to CNN
(CNN) - Each year, the World Economic Forum in Davos, Switzerland, brings together leaders to discuss the most pressing global challenges with a commitment to "improving the state of the world ."
This year, I attended as part of the Forum's first ever delegation of Global Shapers, a global group of youth under 30.
The group included a 24-year-old mayor from the Philippines, a fashion designer from Tanzania, the CEO of one of the biggest e-commerce sites in Turkey, a South African technologist, and a Swiss social entrepreneur. In all, seventy of us traveled from thirty-six countries and represented numerous sectors.
The work I do in the United States focuses on underrepresented communities, and often challenges the notion of traditional power: heads of state, elected official and CEOs.
Initially, I was very concerned about how my ideas around generational accountability, transparency and equity would be received by very elite decision-makers.
I was pleasantly surprised that they wanted to hear what we had to say: they recognized there are unprecedented challenges and demographic shifts happening, and were ready to listen.
During full days of conversations and meetings with CEOs, elected officials, and even monarchs, youth were visible and vocal.
We asked tough questions and were met with equally tough answers and a level of respect and appreciation that was at once heartening and disconcerting.
I answered questions about Occupy Wall Street, and shared why it was critical to have women, minorities and youth at the table.
While I spoke of America's unique challenges, it was refreshing to hear that, among the diverse countries represented, there were similarities.
Our concerns for our countries were the same: youth unemployment, broken systems (political, economic, educational), corrupt leadership, environmental degradation, dramatic economic inequality, intolerance and polarization were just some of the issues we were concerned about.
Certainly the priority, degree and context of those concerns varied region by region. But we all also shared a consistent, dogged commitment to bringing new and transformational leadership to the world stage: we wanted compassionate, accountable, authentic and action-oriented leadership.
Plus, there was a synergy between our habits, desires, and plans: we were digital natives, globally minded, idealists with realistic approaches.
I left the conference feeling even more like a global citizen, and found it refreshing that for all our differences, we might be able to put heads together and come up with solutions for our future world.
The opinions expressed in this commentary are solely those of Erica Williams.