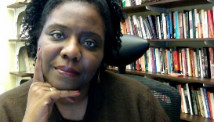 Editor's Note: Noliwe Rooks is the associate director of the Center for African American Studies at Princeton University and the founding coordinator of the center's urban education reform initiative. You can follow her on Twitter @nrookie .
By Noliwe Rooks, Special to CNN
Today, fewer Americans than ever believe one requirement of citizenship is to right the wrongs in our nation. So says a recent report by the American Association of American Colleges and Universities released recently at the White House. The report, called "A Crucible Moment: College Learning and Democracy's Future,"  warns that the United States is nearing the point of becoming a "citizen-less" nation where the majority sit on the sidelines pointing out, complaining about and urging others to act.
So what do we do in the face of this dire scenario? The report recommends that colleges and universities begin to make civic engagement central to the college experience. The preparation for democracy, they argue, is as important to our nation's future as is learning to write, count and prepare for a career.