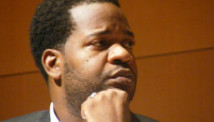 Editor's Note: James Braxton Peterson is the Director of Africana Studies and an associate professor of English at Lehigh University. He is also the founder of Hip Hop Scholars, LLC, an association of Hip Hop generational scholars dedicated to researching and developing the cultural and educational potential of Hip Hop, urban and youth cultures. You can follow him on Twitter @DrJamesPeterson.
By James Braxton Peterson, Special to CNN
(CNN) - I don't think that anyone would consider me a fan of Beyonce's music. Any of my students will tell you that generally speaking, R&B is not my musical genre of choice.
That said, I feel compelled to speak to some of the unspoken issues regarding university courses revolving around prominent pop cultural figures. There has been a bevy of media coverage on this kind of course, most recently directed towards Kevin Allred's "Politicizing Beyonce ..." course in Rutgers University's Women and Gender Studies department. Coverage of Allred's course seems to be garnering more overall positive support than some previously taught courses like Michael Eric Dyson's Jay-Z class at Georgetown University, but I still think that many folk outside of the academy, particularly those who dismiss this kind of coursework, do not fully appreciate the war zone the academy has become.
We are at war. We are fighting for the right to reach students, especially students frustrated with the homogeneity of the educational curriculum, especially students whose lived experiences are not reflected in the curriculum as it is currently constructed. We are fighting for innovation in the Humanities but also in the social and so-called "hard" sciences.
Too many college classrooms are like mausoleums. For all of our smart technology and tentative embrace of the digital age, too many courses are not willing to integrate currency into the classroom space. And that is part of what this war is about. Allred's course speaks to young people, especially young people of color, women, and the LGBT community, in ways that too many other courses simply will not and some others simply cannot.
I believe in the efficacy and the inherent value of the kinds of courses that Allred will surely continue to teach. Folks should note well that his "Politicizing Beyonce" course emerged from discussions that were already occurring about the pop star, and her impact on the lives of young people in his Intro course on women and gender studies. This is where Allred's selection of Beyonce makes sense. She has not emerged in some pop cultural vacuum. A course such as this allows students to consider the ways in which her imagery, lyrics, and film performances challenge gender roles and engage emerging discourses on gender in American society.
Allred is situating Beyonce within a variety of socio-historical and socio-political contexts, including the wide range of Black feminist and Womanist writings that were applied to Beyonce's historical forbearers, notably Billie Holiday and Nina Simone. The kinds of conversations that these innovative courses trigger help students to transform themselves from passive consumers into critically thinking, media literate agents who will be better prepared to master the inundation of imagery, consumption, and political spectacle with which they will be wrestling for the rest of their lives.
When I was in graduate school at University of Pennsylvania, I had the opportunity to be a teaching assistant in Michael Eric Dyson's Tupac course which explored the spirituality and religious complexity of Tupac's life and lyrics. It was a foray that invited students to consider broad themes in religion studies, including redemption, posthumous mythology and prophetic discourses.
More recently, I was a guest lecturer in the brilliant "Sampling Soul" course co-taught for the second consecutive year at Duke University by Mark Anthony Neal and super-producer, 9th Wonder. Together, Neal and 9th Wonder explore 20th century Black musical history through the songs and riffs that are most readily sampled by more current Black music. The result is an ethno-musicological journey through the vault of Black artistic production.
I was elated to hear that Salamishah Tillet and John Jackson were co-teaching a course on Spike Lee's body of work, and I submitted my published articles on HBO's "The Wire" for Professor Charles Ogletree's course at Harvard Law that deployed "The Wire" as a subtext for critical inquiry into urban policy and politics. Last year, I consulted with Dyson as he developed the syllabus for his groundbreaking course on sociology, theodicy and the life and lyrics of Jay-Z.
I study, research, write about and teach various approaches to hip-hop culture (and graphic novels and comics) and I am professionally committed to these kinds of courses. But I have been engaged in countless battles about the value of what I do – despite the fact that my classes are well populated, often the most diverse classes on campus and students' evaluations of my courses are very strong. This is why I believe that courses like Allred's are an important innovation for the academy.
Our universities are struggling to diversify faculty, staff, administrators, and students, but what is often left out of this discussion is our struggle to diversify the curriculum – to bring the subject matter through which we educate this next generation into the 20th and 21st centuries.
Finally, we have to consider the sheer marketing aspect of courses such as these. I am a director of the Africana studies program at Lehigh University and part of the "game" is as simple as butts-in-the-seats of your classroom, your program, and/or your department. When an English department creates a film studies/media program the number of students choosing English as a major increases. When Africana studies programs or sociology departments embrace pop culture, new media and technology, the number of majors and minors increases. I do not think of this as pandering to students' interests – I think of this as the academy understanding the value of innovation in what we do and what we will be able to do going forward in the information age.
Although many, many scholars have said this before – it's worth repeating ad infinitum. A text is no longer simply a textbook. The life and works of Beyonce – like her music or not – are a series of texts. The brilliant new film, "Pariah," is a text. Jay-Z's lyrics are texts! In the academy we use texts to teach, and for those folks who can't get their heads around the fact that textualilty is no longer trapped in the 18th century, I sadly consider them to be casualties of these ongoing academic wars.
The opinions expressed are solely those of James Braxton Peterson.