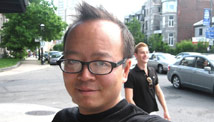 Editor's Note: Jeff Yang writes the column Tao Jones  for the Wall Street Journal Online,  is a regular contributor to WNYC radio, blogging for "The Brian Lehrer Show", and appears weekly on "The Takeaway".  He formerly wrote the  "Asian Pop" column for the San Francisco Chronicle and  was founder and publisher of A magazine.  He tweets @originalspin.
By Jeff Yang, Special to CNN
"Sir: I am a Chinaman, a republican, and a lover of free institutions; am much attached to the principles of the government of the United States ... The effect of your late message has been … to prejudice the public mind against my people, to enable those who wait the opportunity to hunt them down."
These were the opening lines of an open letter written by Chinese restaurant owner Norman Asing to California Governor John Bigler, who, in 1852, had demonstrated his intention to ride nativist sentiment to re-election by delivering a scabrous, xenophobic speech before the state legislature.
In his "special message," he called the Chinese a "peculiar people" who were stealing the nation's treasure and shipping it back to China, while taking jobs and livelihood away from white Americans, and demanded the legislature enact "extraordinary measures" to address their threat.
Fearing that the speech would tip anti-Chinese tensions over into violence, Asing, one of San Francisco Chinatown's most prominent leaders, sent his letter to The Daily Alta California newspaper, which published it without comment.
Bigler ignored it.
But Asing proved all too right: encouraged by the continued drumbeating of Governor Bigler and other nativists, the next two decades would see fear and anxiety over the "Asiatic hordes" rise to a deadly pitch, culminating in one of the most horrifying incidents of mass violence in California history.
On October 24, 1871, Los Angeles's Chinatown was stormed by a mob of over 500 whites, who beat, robbed and murdered its residents in a night-long orgy of hatred.
Not a single Chinatown building escaped being looted and trashed, and nearly every resident was assaulted, robbed or worse.
Despite that tragedy, a 160 years later, politicians of both parties have chosen to embrace the "Bigler" formula, framing their campaigns for office not as a race between parties or leaders, but as a clash of civilizations, suggesting that their opponents are the willing or unwitting tools of nefarious interests in the Far East.
Super Bowl ads offer two views of national anxieties
Pete Hoekstra, a Michigan Republican running for U.S. Senate against incumbent Michigan Sen. Debbie Stabenow, is the latest and most egregious of the Modern Day Biglers, having spent hundreds of thousands of dollars on an ad casting Stabenow as an enabler of China's creeping domination over the United States
The advertisement, which aired across all of Michigan during Sunday's Super Bowl, features an Asian-American actress in a yellow outfit and conical straw hat, bicycling through a rice paddy.
In broken English, she proceeds to praise Debbie "SpendItNow" for her splurging ways: "Thank you Michigan Senator Debbie Spenditnow! Debbie spend so much American money. You borrow more and more – from us. Your economy get very weak. Ours get very good. We take your jobs. Thank you Debbie Spenditnow!"
The ad's cartoon caricature has been broadly condemned as racially offensive, even by some of Hoekstra's Republican colleagues.
But relatively few people are questioning the ad's bigger context: That China is a zero-sum threat to the U.S., rubbing its hands with diabolical glee at the thought of American collapse.
As David Catanese wrote in Politico, "The message of the ad — that China is a continuing threat … isn't as much of an issue as the fact that Hoekstra's camp seized on stereotypes to drive home its point."
In fact, the casual invocation of China as America's zero-sum nemesis and existential rival has become increasingly common in today's political conversation.
In 2010 and 2011, dozens of advertisements from politicians and special interest groups have framed China as a looming, leering enemy.
Hoekstra's Republican colleague of Nevada, Rep. Mark Amodei, ran ads in which a Chinese news anchor recounted a chain of future events that began with the vote to raise the debt ceiling and ended with Chinese tanks rolling through Washington.
Running for congress in West Virginia, Republican Spike Maynard accused his opponent, Nick Rahall, of voting to send money to Chinese wind turbine manufacturers, with the flag of China flashing in the foreground.
The Democratic Senatorial Campaign Committee ran ads slamming Sen. Pat Toomey, a Pennsylvania Republican, as "fighting for jobs…in China!"
Beating back a challenge from former Hewlett-Packard CEO Carly Fiorina, Democratic Sen. Barbara Boxer aired commercials accusing her of outsourcing thousands of jobs to "Shanghai instead of San Jose," and "proudly stamping her products 'Made in China.'"
And the anti-spending group Citizens Against Government Waste ran a notorious ad that featured an oily Beijing academic from the year 2030 spurring his class to a malicious fit of laughter over America's downfall.
All of these ads used horror-movie audio cues and triumphant Red Communist imagery to play up the China threat.
But many of them – like Hoekstra's ad – blurred the line between Chinese and Asian-Americans, by casting actors or extras who are obviously U.S.-born or raised to play the parts of nefarious Chinese nationals.
Former Rep. Zack Space went one step further, running ads attacking his GOP rival Robert Gibbs for supporting free trade with China that climaxed on an image apparently shot during the San Francisco Chinatown Lunar New Year parade: As dragons are dancing in the foreground, English-language signs are clearly visible in the rear.
The sloppy (or in some cases, perhaps intentional) conflation of "China" and "Chinese Americans" is tremendously dangerous, redirecting these Yellow Peril messages at a target that's decidedly closer to home.
Nor is it just Americans of Chinese ancestry who are at risk: History is full of examples of ethnic misidentifications that have produced fatal consequences. The most famous case is that of Vincent Chin, a Chinese-American murdered 30 years ago this year in Hoekstra's home state of Michigan, by unemployed autoworkers seeking revenge against "the Japanese."
Based on evidence from Republican debates, the use of China as a convenient enemy is likely to intensify as the field thins.
At the Bloomberg/Washington Post debate before his New Hampshire primary victory, Mitt Romney – the GOP's probable standard-bearer– thundered that President Obama and other American leaders were being "played like a fiddle by the Chinese. And the Chinese are smiling all the way to the bank, taking our currency and taking our jobs and taking a lot of our future."
If that sounds oddly similar to John Bigler's message to the 1852 legislature, that is because it is essentially the same.
And for the ethically bankrupt but politically ambitious, Bigler's success might well serve as a role model. His stance toward the Chinese caused his popularity to skyrocket, winning him a second term by a large margin, and even triggering a campaign to name what we now call Lake Tahoe "Lake Bigler."
Later, he was named U.S. ambassador to Chile, and then U.S. commissioner for the Central Pacific Railroad (ironically, overseeing the greatest achievement of the so-called "coolies" he so despised.)
But as we now know, the short-term political gain Bigler experienced came at an awful price.
A century and a half after one of the darkest stains on the great American tapestry, Rep. Pete Hoekstra and others who have proven so eager to play the "China card" might want to read a little history, and heed the long-lost warnings of Norman Asing.
The opinions expressed in this commentary are solely those of Jeff Yang.