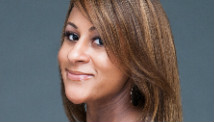 Editor's note: Angela Benton currently runs  Black Web Media, which publishes BlackWeb20.com and was featured in CNN's documentary "Black in America: The New Promised Land - Silicon Valley."
Angela recently relocated  to Silicon Valley with her family. See what's next for this full-time mom and entrepreneur.
"Black in America: The New Promised Land, Silicon Valley" re-airs on CNN, February 11 and 12 at 8p.m., 11 p.m., and 2a.m. ET. Keep the conversation going on Twitter with #BlackinAmerica.
By Angela Benton, Special to CNN
(CNN) - Since the initial broadcast of Black in America 4 in November we've received more than 300 applications for the newest cycle that begins on February 20th.  By now you're probably wondering, 'So who the heck is in the next class?!'  We have selected seven new dot com entrepreneurs to make up the next NewMe class – five African American men, one white woman and one Latina.
We thought it was going to be hard to outdo ourselves in terms of support from speakers, mentors, and sponsors, but we were wrong.  In addition to having folks like Mitch Kapor, Ben Horowitz (who was a mentor last year but was not shown in the Black in America documentary), Navarrow Wright, and Vivek Wadhwa involved again, some pretty impressive individuals have been added to the roster.
I can't count the number of people who've asked me how we are able to pull off this type of program at the level we are doing it.  Aside from having a team that hustles hard, the companies that support the program financially are doing more than just cutting a check. They believe in what we are doing and are putting in sweat equity and resources too.
For instance, when we decided that it would be best for the Founders to work out of the city this time around (instead of the suburbs) so that we didn't have to incur transportation costs, Google, our presenting sponsor for 2012, stepped up.  Not only were they fine with changing the location from the Googleplex in Mountain View to San Francisco, they also made it possible for us to work out of the HUB SoMA for the year.  The HUB SoMA is an amazing co-working space in the heart of one of San Francisco's bubbling start-up districts that caters to organizations who are setting out to do good and change the world; the synergy couldn't be better.
Tagged is throwing the Founders a welcome party, HP is hosting the mid-way checkpoint (which is the beginning of the push for Founders to get ready for Demo Day), Wilson Sonsini is allowing us to send Founders that need it to their long standing Entrepreneurs College, and Gunderson Dettmer is providing regular weekly legal office hours.  NewMe would not be such a strong program without things like this that directly add to the Founders being successful.