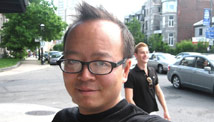 Editor's Note: Jeff Yang writes the column Tao Jones  for the Wall Street Journal Online,  is a regular contributor to WNYC radio, blogging for "The Brian Lehrer Show", and appears weekly on "The Takeaway".  He formerly wrote the  "Asian Pop" column for the San Francisco Chronicle and  was founder and publisher of A magazine.  He tweets @originalspin.
By Jeff Yang, Special to CNN
(CNN) - Last Friday, Jeremy Lin – the Knicks' sensational out-of-nowhere superstar – finally sealed the deal.
Despite his record as one of the most exciting talents to come out of the Bay Area in years, leading Palo Alto High to a stunning 32-1 record in his senior prep year, he was recruited by none of the top basketball schools, finally opting to attend Harvard University after being offered a guaranteed spot on their team.
He subsequently dominated the Ivy League, and put up numbers in his senior year that should have gotten any NBA scout excited, becoming the only player in the NCAA's Division 1 to rank in the top 10 in virtually every performance category.
And yet Lin went undrafted, finally accepting an offer of a deep backup slot on his hometown team, the Golden State Warriors – who gave him a handful of garbage minutes, shuffling him back and forth between the bench and the NBA's development league, before finally releasing him in December.
The Houston Rockets, who'd lost center Yao Ming to retirement the previous season, briefly picked up Lin as a potential ploy to retain their substantial Asian fanbase, but dropped him a few weeks later – on Christmas Eve.
The Knicks, ravaged by injuries to all their big-name, big-ticket stars and reeling in the standings, picked him up to ensure they could field a full team on the floor. In the past week, Lin has led New York to a string of victories with a set of incredible individual and team performances.
And last Friday, after dropping 38 points on an elite Los Angeles Lakers squad, he convinced his remaining critics and doubters that they'd been wrong all along.
Most of them.
Minutes after Lin's amazing game, with the streets of midtown still in the throes of LINsanity, Fox Sports News personality Jason Whitlock issued a flip, ostensibly satirical tweet that probably can not be reprinted in full here. Suffice it to say that it suggested that Lin would be celebrating his victory by entertaining "some lucky lady," while also reiterating an ugly and cliché stereotype about Asian anatomy.
After heavy pressure from a range of sources, particularly the Asian American Journalists Association, on Sunday, Whitlock apologized for the joke, calling his remark "immature [and] sophomoric" and one that "debased a feel-good sports moment."
While many people, including, apparently, Fox Sports News's leadership, have been willing to let things go based on this act of contrition, I think Whitlock dodged addressing the larger cultural context behind his statement.
I think that's unfortunate, especially in light of a few other recent in-the-news events.
The first is another offhand tweet by a television personality. Roland Martin, a commentator for the news channel behind this blog, CNN.
Just a week before Whitlock's unfortunate gibe, as the Giants were headed for a shocking Super Bowl victory over the Patriots, Martin blurted a response to H&M's sexy underwear commercial featuring David Beckham – suggesting to his followers that any men expressing enthusiasm for the ad should be slapped upside the head. The remark drew a firestorm of backlash from LGBT activists, who interpreted it as an anti-gay statement. Martin was subsequently suspended "indefinitely" from CNN appearances.
There is a connection between the two incidents, and it's not just that they both related to prominent news figures caught out on social media. Both Whitlock and Martin are African-American men. And both were speaking from a position that illustrates a particular entrenched attitude among men of color about masculinity.
This isn't the place to go deep into the record of how sexuality, gender and race have intersected in black, Latino and Asian American history, with tragic and sometimes horrific results. Suffice it to say that as a consequence of that history, within each of these communities, manhood – its definition, its expression and yes, the defense of it against those who would question it – plays an outsized role.
Whitlock's joke said more about his own male insecurities, reinforced by mainstream culture's stereotypes about black men, than it did about Lin's anatomy.
And Martin's joke was ultimately less of an attack on homosexuality than it was a rejection of "sissyhood": Beckham has long been held up as an exemplar of the "metrosexual male" – the sensitive, fashion-forward guy who, gay or straight, presents an image that runs counter to the rugged and bellicose sensibility of organized team sports, particularly football.
As NFL cornerback turned sportswriter Alan Grant noted in an essay some years back for ESPN.com, "the athletic world – that realm of all things male, musky and aggressive – is the final frontier of masculinity," which is why it's so frequently a cesspool for, as he put it, "crude, old-fashioned, sophomoric statements about sexuality." Like Whitlock's. And Martin's.
Whether they intended to or not – and even if they're oblivious to the fact – with their comments, Whitlock and Martin injected themselves into a much larger conversation of what it means to be a "real man" in an era where manhood is constantly perceived to be "under attack."
But maybe the particular male archetype that Whitlock, Martin and many others have held up as a benchmark is one that deserves to be under attack.
It celebrates physical parameters that few men can reach – certainly not Whitlock or Martin, or me, for that matter: Big, burly, massively muscled, inhumanly endowed. It reinforces the notion that manhood is best expressed through violence – giving women "pain," per Whitlock, or "slapping the ish" out of someone, per Martin.
It is, quite frequently, accompanied by words and actions that are deeply misogynist or nastily homophobic, or both.
It presents manhood as the fruit of harsh treatment and abuse – as exemplified by the viral video of the so-called "Eagle Dad," Chinese businessman He Liesheng, forcing his four-year-old son to run around Central Park in the snow in his underwear to make him more manly: "When the old eagle teaches its young, it takes the young eagles to the cliffside, beats them, and pushes them to teach them to use their wings," explained He.
One of the things that's most incredible about the Jeremy Lin phenomenon isn't just that he's had so much success, but that he's done so without relying on or embracing the tenets of raw, rugged, roughneck notions of manhood.
He's a devout Christian who begins each game with a ritual in which he and Landry Fields mime reading a Bible together, and ends games by thanking God (though not in a way that is excessive or flamboyant, unlike some athletes of faith with whom he's compared).
He's humble, hard-working and preternaturally mature. When treated with contempt by competitors – for example, Lakers superstar Kobe Bryant, who professed not to know who he was, and repeatedly called him "this kid" in an interview prior to L.A.'s loss to Lin and his Knicks – Lin has responded with grace, and won their respect with his actions rather than his words. (I admit to having tried to push Lin into a battle of words with Bryant myself: I was the journalist who asked him at the post-Lakers game presser whether he thought Kobe "knew who he was now." Lin's polite response was that Bryant had reached down to help him up during the game after he had gotten slammed to the floor in a hard collision, so yeah, "Kobe probably knows who I am at this point.")
And his Knicks teammates universally call him a genuine and generous "sweet guy" who, in rookie guard Iman Shumpert's words, "would give you the shirt off his back."
It all makes you think that Lin's immigrant Taiwanese parents did a terrific job. Given how deep his relationship is with them – Lin constantly praises his mother and father as his biggest supporters, greatest role models and closest confidants – you can tell that the man Lin is today reflects the boy they raised: A boy who was encouraged rather than coerced to excel, for whom both athletic and academic achievement were placed in balance with simply enjoying life and pursuing higher causes.
That boy has turned out to be a pretty good man, with the potential to maybe become a great one.
As a father of two young sons myself, all of us big fans of Number 17, I'm hoping that continued success as a player and as a person will put Lin's quiet brand of masculinity on the map. And maybe, Lin-spiration will serve as a man-tidote to all the abusive Eagle Dads, tough-talking sports fans and bad-boy ballers and brawlers we're subjected to today.
The opinions expressed in this commentary are solely those of Jeff Yang.