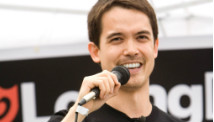 Editor's note: Ken Tanabe is the founder and president of Loving Day, an international, annual celebration that aims to build multicultural community and fight racial prejudice through education. He is a speaker on multiracial identity, community organizing, and social change through design. 
By Ken Tanabe, Special to CNN
(CNN) – When President Barack Obama's parents were married, interracial marriage was illegal in 22 states.
In 1967, six years later, Loving v. Virginia, a Supreme Court decision with a memorable name, legalized marriage between those of different races.
The Loving decision is perhaps the most forgotten milestone in civil rights history.
But that may soon change.
Tonight, "The Loving Story" will have its broadcast premiere on HBO.
And for the last eight years, I have led an annual celebration to share and celebrate the Lovings' story.
The June 12th anniversary of the Loving decision is celebrated as "Loving Day" in cities all over the U.S., and internationally in Tokyo and Barcelona.
Loving Day was designed to fight racial prejudice through education and to build multicultural community. Some find Loving Day so meaningful that they choose it as their wedding day.
The largest Loving Day celebrations attract more than a thousand guests in New York and Los Angeles.
But most Loving Day celebrations are backyard barbecues, picnics, dinners, and happy hours that anyone can host for friends and family.
It was a husband's desire to live with his family that led to this historic decision that made my story possible.
Mr. and Mrs. Loving were from a small town in Virginia. His heritage was English and Irish; hers, African-American and Cherokee.
In 1958, they were arrested for being married: then, in Virginia, to marry someone of another race was a felony.
The Loving's were awoken by police flashlights while they were asleep in bed, and taken to jail.
They were given a choice of one year in prison or a 25-year exile from the state of Virginia.
They chose to leave.
The legal battle that followed lasted nine years and was taken all the way to the Supreme Court.
Their attorneys, Bernard S. Cohen and Philip J. Hirschkop, argued that laws against interracial marriage came from "slavery statutes."
They also argued that such laws violated the equal protection guaranteed by the Fourteenth Amendment. Thirteen years earlier, in 1954, a similar argument was made against segregation in Brown v. Board of Education.
These laws were not only "black" and "white." They also affected people who would be described today as Native American, Hispanic, Asian, Pacific Islander, and South Asian – as well as their children.
My own parents, who are Japanese and Belgian, were married just a few years after the Loving decision.
If it weren't for the Loving case, I could have been illegitimate.
Or perhaps I would have never been born.
On June 12th, 1967, the Supreme Court decided unanimously in favor of the Lovings – and dismissed hundreds of years of racist laws.
Recently, the Pew Research Center analyzed Census data that revealed one in seven new marriages in America is interracial or interethnic.
When the Lovings were married in 1958, 4% of Americans approved of interracial marriage. More than fifty years later, 86% approved.
In 2009, multiracial Americans were the fastest growing demographic group. In the 2010 U.S. Census, nine million people chose to identify as more than one race.
This vibrant multiethnic community has created their own field of academic study, conferences, community groups, student organizations, art, photography, films, and even the Loving Day holiday that celebrates their identity.
Last year, Loving Day was officially recognized in the Lovings' home town of Caroline County, VA.
Perhaps the next official recognition will come from President Barack Obama as a tribute to his parents from Kansas and Kenya, the Loving family and the millions of Americans that identify with their experience.
The opinions expressed in this commentary are solely those of  Ken Tanabe.