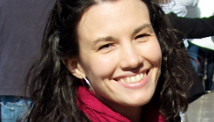 Editor's Note: Valerie Pokorny is actively involved in marriage preparation programs, natural family planning instruction and chastity education in the Archdiocese of San Antonio, Texas. 
An opposing view can be read here.
By Valerie Pokorny, Special to CNN
(CNN) - In the face of the Health and Human Services mandate to provide contraception coverage, I stand with my fellow Catholics hoping our religious freedom will be respected.
But more importantly, I stand as a woman hoping who I am will be respected.
Four times a year, I walk into a room of Catholic moms and their middle school or high school daughters to help them see why being a woman matters, as part of the Archdiocese of San Antonio's Mother-Daughter Programs on the Gift of Femininity.
I tell them it's no accident that they are women, that women are equal to men in personal dignity, and that men and women are different by design. Those differences are meant to work together for the benefit of each individual, but also for the benefit of the world around them. I tell them there's such a thing as the genius of women - and that the world needs them to cherish this in themselves and strive to live it out to the fullest because it is good. The world would be impoverished without it.
To make it more practical, I pass out a few popular magazines straight from the checkout lane. I ask them to tag several examples of "girl genius." They eagerly start flipping through the pages. After a few minutes, I ask each group to share the examples they found.
Then I ask if they ran into any obstacles in looking for those examples of girl genius. 'Yes,' they respond. The view of women in these magazines is often focused on appearances and overtly sexualized. They sense the pressure to conform to standards that lower the bar for both men and women alike.
They see glimpses of women being valued for their skill, their intelligence, their abilities, the positive contributions they make to the world around them, often including motherhood. But those glimpses are overshadowed by racy headlines and flashy displays of the latest trends in personal care, sexual techniques, or celebrity gossip.
All acknowledge that the values society sets for woman don't always measure up to the fullness of her personal dignity. They separate, reduce, commoditize, selectively ignore, and sometimes outright reject certain aspects of woman, subjecting her to powerful pressure to conform.
Indeed, throughout history woman has been at a sore disadvantage in terms of having the freedom to thrive and contribute her many, varied gifts to society.
This is why I find the case made by our current administration in regard to the Health and Human Services mandate so difficult to swallow.
The Obama administration's primary talking point on this issue is that "Every woman should be in control of the decisions that affect her own health."
I agree. 100 percent.
But from there, the defense sounds like slick advertising for the contraceptive industry: To be a healthy woman, you need contraception. All the successful women use it. You can't live without it.
Should I so easily accept the implication that I need to alter a part of myself that's working properly in order to be free or fulfilled? I find this premise tremendously offensive. To me, this exerts pressure tantamount to that felt by women who purge after eating to attain or maintain a particular body image. It encourages women to think that their value is somehow intrinsically tied to how sexually available and desirable they are.
I thought the whole moral obligation to fulfill a husband's sexual needs was a thing of the past... but alas, it's been repackaged for a new secular generation. Women are still evaluated heavily on the basis of their uninhibited sexual availability, which contraception ensures precisely by severing women from their fertility.  (When a woman uses "contraception" for medical reasons other than preventing a pregnancy it's not technically contraception, and the Catholic Church doesn't necessarily prohibit these uses.)
My fertility is not a disease. It does not need to be repressed, manipulated, or rejected. It ought to be accepted and respected accordingly, by individuals and by society as a whole. And if that means exercising a bit of self control now and then, well, that's a hell of a lot more dignified than saying, "Eh, we got this pill that makes self control unnecessary. I want pleasure now. Let's get it on!"
Which begs the further question: Why do we tend to treat woman as if she is always fertile? It seems to me informed fertility awareness would be a game-changer for many women, helping them to understand and care for their overall reproductive health instead of feeling a need to simply control their fertility. Modern fertility-awareness-based methods (many of which fall under the umbrella term Natural Family Planning, or NFP) empower both women and men with accurate knowledge about a woman's individual, unique reproductive cycle based on observable fertility signs, such as basal body temperature and changes in cervical mucus, that tell them when ovulation occurs.
I've found most people write off NFP because they think it's outdated, ineffective, or only works for women with regular cycles. Frankly, I don't think they understand what modern NFP entails. The so-called rhythm, or calendar, approach is to today's NFP like the Model T is to today's automobile industry: First formalized in the 1930s, it was based on the scientific knowledge available in its day, but we've come a long way since then.
Even secular sources are wising up to the benefits of modern fertility-awareness-based methods, which can not only be effective at avoiding pregnancy, but can even help to diagnose and treat causes of infertility. I urge skeptics to research specific modern methods such as the Sympto-Thermal Method, the Creighton Model, or the Marquette Model (which incorporates a fertility monitor.)
I'm all for the progress of woman. Let's just make sure in promoting her progress, we don't reject something that is inherently part of her in the first place.
The opinions expressed in this commentary are solely those of Valerie Pokorny.